3 ways to paint without a brush (Tuesday Tutorials)
How could you paint without a brush?  How about using celery, foam eggs or even paperclips?
Check out these tutorials and link up your own.
Welcome back to #Pintorials.  I hope you had a wonderful Easter break!
There were plenty more fabulous how-tos in last week's linky.  I've decided to share these 3 creative techniques:
How to paint without a brush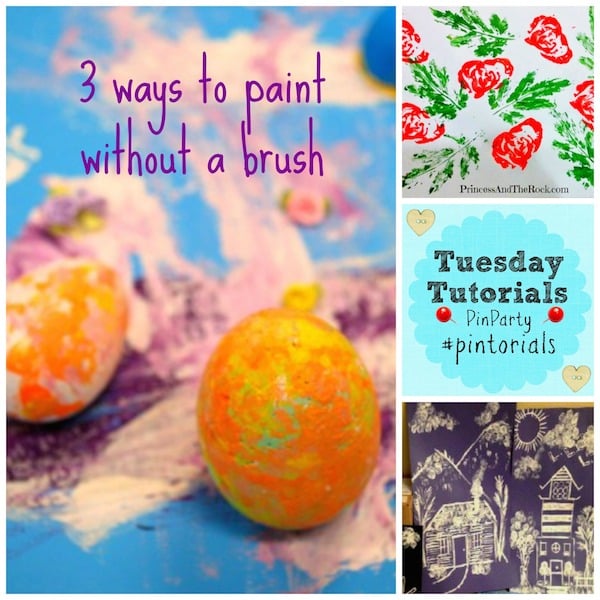 Painting with paperclips from Mosswood Connections: What a brilliantly simple and original idea.  I love the results too – very impressive!
Foam egg painting and 3D collage from One Time Through: I love how much fun this looks.  Plus you get 2 projects for the price of one – both simple enough for a toddler to do.
Celery stalk printing and leaf paintbrush from The Princess And The Rock: Utter genius.  This would make lovely wrapping paper, don't you think?
Why not swing by and see what Kate, Anna & Anthea are featuring this week too?
If you'd like to link up, here's a reminder of the rules (remember – please only link up one post per week)…
The #Pintorials Rules:
Add the URL of your Pin or blog post below. We will then add it to our Pintorials Pinterest Board. It must be an instruction based post of some kind but this could be crafts, recipes or anything else. It can be old or new, but please only add each thing once and add only one post a week.
Follow the Pintorials Pinterest Board. If you'd like to follow your hosts too that would be fabulous.  We are Gude, Kate, Anna and Anthea.
Visit at least 3 of the sites pinned below and pin them to one of your boards. If you'd like to say you're visiting from #Pintorials that would be marvellous. Of course you can pin more than that if you want!
You don't have to use the badge, but it would be great if you can, or if you'd give us a text link. The more people know about Pintorials, the more can join in the party!
P.S. You can grab the blog badge here if you'd like to use it.
Tuesday Tutorials Linky: