An inspiring interview: Lusea Campbell of Tatty Devine
Meet Lusea: laser cutter technician for Tatty Devine; wearer of onesies and lover of colour.
Read on and be inspired..!

This month I was lucky enough to chat to Lusea Campbell (laser cutter technician for Tatty Devine) about her dream job, creative family and what inspires her…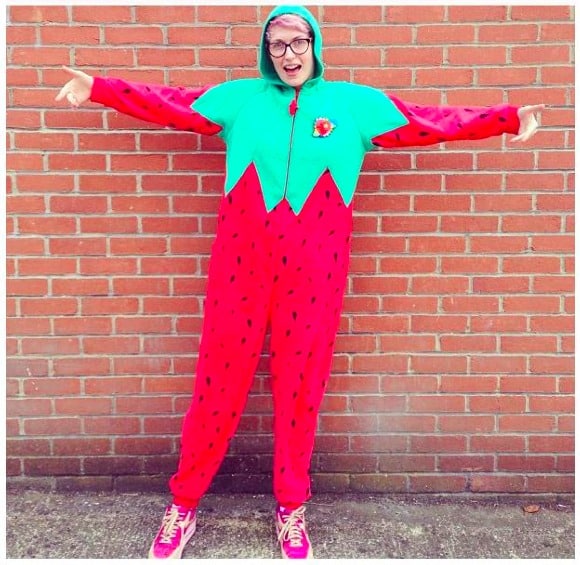 1. Can you tell us a bit about your job? What does a typical day involve?
I am in charge of the personalised jewellery, mainly the Name Necklaces and Speech Bubble Necklaces. I make all of the web orders and the Brick Lane shop orders.
I start the day in the studio around the corner of the shop, this is when I get to catch up with the rest of the London making team.  I also get any supplies of acrylic that I'm running low in.
At 10 I toodle down to the shop where I am happily greeted by the shop staff!  I get a daily list of orders from our Kent dispatch team. Because names are unique, I have to artwork the names letter by letter, once I have put the letters together I have to tweak the artwork at the joins to ensure the name will be strong enough. I then cut the names on the laser cutter, it is similar to a printer in which I press print and then it magically cuts the pieces with a laser (there is a little bit of skill and knowledge involved as each colour cuts slightly differently so you have to change the settings each time you use it)!
2. What do you love about your work?
I love the people I work with, the company and the opportunities. The company attracts like-minded people, so the staff and customers are really cool and interesting! A team of us went to Bestival and ran a make your own bunting necklace workshop and had great fun in doing so!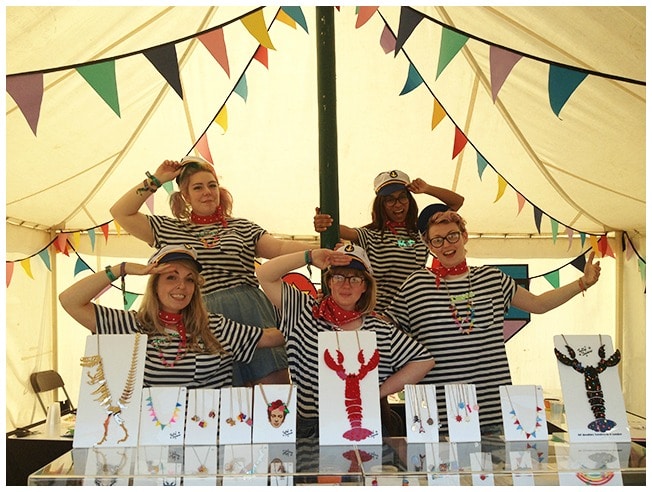 3. You come from a creative family, don't you? Tell us a little about them. Did your parents' work influence you?
Creative is one way to describe my family! We are nuts, and proud to be so! I come from a fairly large put-together family and we all have quite different creative careers, covering fashion, producing, drama, music and history.  My dad is a Graphic Designer and my mum is a business advisor for the creative industries, she also has her own creative practice too.
We were involved in a lot of creative things in our village growing up, mum also use to set us Summer projects (to keep us busy!) which would have a theme like 'sunflowers' and then we would have to draw them, plant them, write a poem about them, make one out of tissue paper etc.  So we were quite hands-on and if we didn't have something (like a rocking horse) then we would just make one out of cardboard!
I have definitely been influenced by them all; my brother and sisters are all older then me so I look up to them all a lot and they have all helped me with their experiences too.
4. I love Tatty Devine jewellery for its quirky sense of humour – it appeals to my inner toddler! Did you design and make jewellery as a child?
Yes that's what attracted me to Tatty, the humour and the colour!
I certainly did!  Mum use to run a jewellery gallery when I was a baby so I've always been around beads and her making jewellery. she used to run jewellery making workshops which I would help run from the age dot!
I also made some jewellery at uni too, I did my degree in Contemporary Crafts, which is essentially 3 years playing with amazing materials such as glass, plastic, ceramics and metals, so we covered silver smithing too.  I love how accessible it is for the wearer, it makes me proud if I see someone wear what I have made. For Christmas I made all the women in my family silver bangles, with an inscription on the inside.  I think nearly all of them wear them everyday which is pretty cool!
5. Do you think creativity can be learnt, or is it innate?
I definitely think it can be learnt. I think some people have natural talent, but I do believe there is something for everyone. I also believe there are all types of creativity – you can be creative on a spreadsheet!
6. What inspires you?
Ironically with my name, but I am defiantly inspired with water.  It doesn't necessarily directly form into my work but it gives me an energy and calmness when I am on the coast, especially in Cornwall, specifically St Ives.
Colour is also another big inspiration, words can't describe how colour makes me feel. If I see something fluorescent, I'm like a little girl all giddy and excited! David Batchelor colour theory is really interesting.  He has a similar colour palette to me.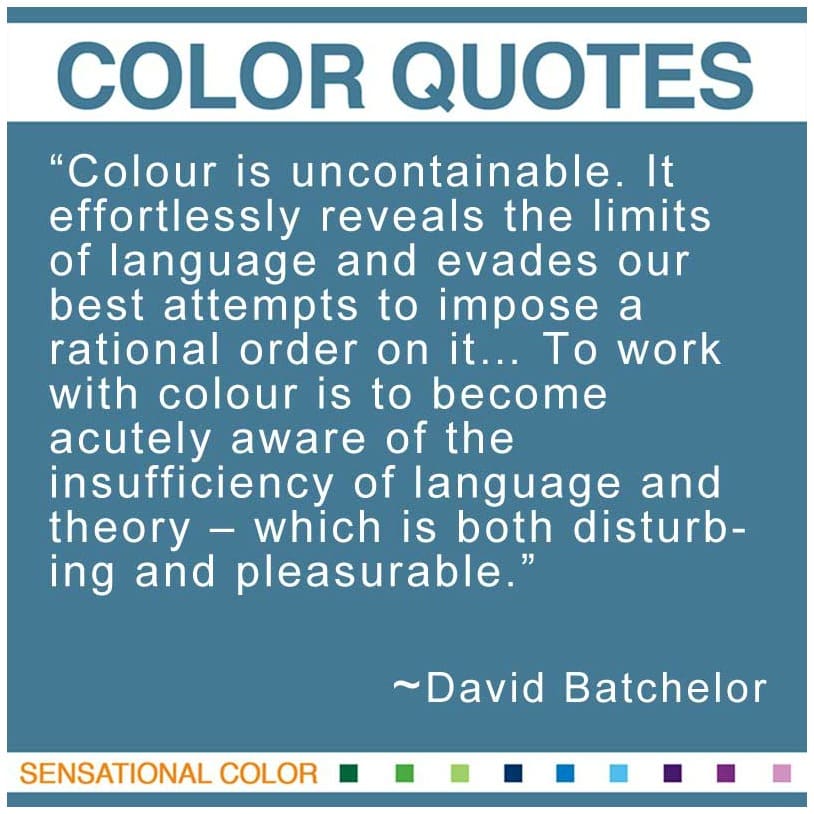 What  do you think?  Does a certain colour make you feel a particular emotion..?
P.S. If you enjoyed this post, why not follow HodgePodgeCraft on Twitter (and follow Lusea too while you're there)?