Back to school: DIY (no-sew) comic book bag tutorial
This DIY comic book school bag will help your little Superhero to find his (or her!) book bag quickly and easily at school, plus it's really cute…
Last week (post potty-training boot camp), Pickle started pre-school and I'm relieved to say he seems to love it!  I say he seems to, because he doesn't really talk about it, BUT he is very keen to go and yesterday I didn't even get a wave goodbye (or even a backwards glance)…
Anyway, at Pickle's pre-school, all the kids have a book bag and most of them look exactly the same.  I wanted Pickle's to be instantly spottable and grabbable (did I make a new word there?), so I decided to customise his book bag.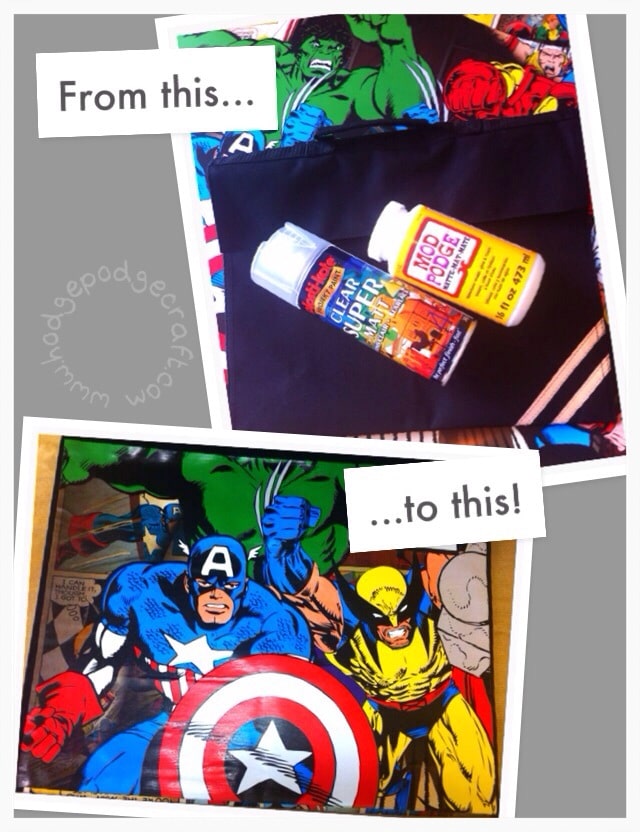 How to make a DIY (no-sew) comic book bag
You will need:
– a book bag (we used a Quadra classic)
– Mod Podge (use Mod Podge Outdoor if you can get it)
– a brush
– a ruler and pen/pencil
– a poster or wrapping paper of your choice (we used Marvel heroes)
– clear acrylic spray sealer
– if you have time, watch these ModPodge tips videos on YouTube before you start
COST: a few quid
AGE: make for kids (the sealer is not safe for children)
TIME: under an hour total, but allow plenty of time for drying between coats
Tutorial:
Ensure your book bag is clean and dry.
Measure carefully and then cut your wrapping paper or poster precisely to size.  I played about with mine in order to put Captain America and Wolverine front and centre.
Apply a medium layer of Mod Podge (thick enough so that you can see it) to the bag surface and the back of the paper.  This stuff dries fast, so try to work quickly (but don't panic)!
Smooth the paper onto the bag using a roller.
Don't worry too much about small wrinkles, as they will often disappear while drying.
Allow to dry for 30 minutes, then Mod Podge a thin coat over the top.
Repeat the drying and Mod Podging process so that you have 2-3 coats.
Allow to dry for 24 hours
Mask any handles, name labels, or anything else you haven't Mod Podged and spray with 3 very thin coats of clear acrylic spray, allowing plenty of time to dry between coats (it's important to do several thin coats, rather than one thick one).
Allow another 24 hours to dry completely before allowing your little one to don their cape and fly off to school with their fabulous new DIY comic book bag.
I asked Pickle to hold up his bag so I could take a photo on the way to school.  I guess he didn't want to hog the limelight!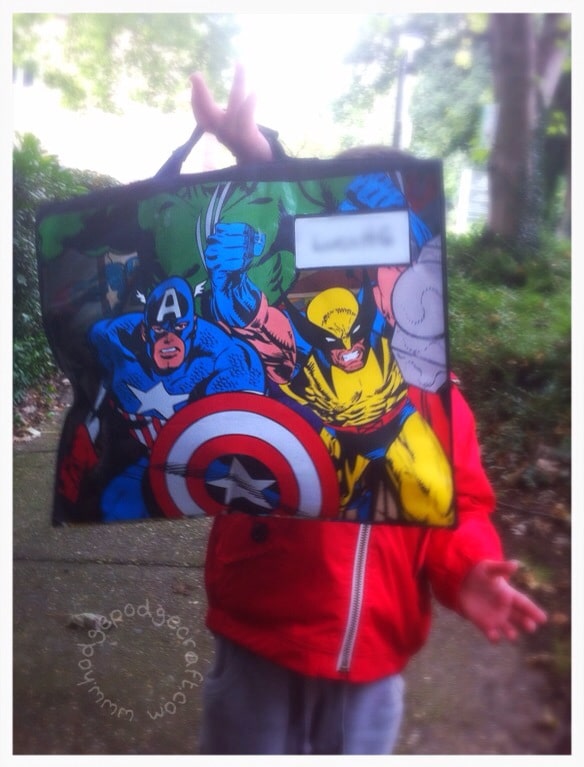 I did also get a photo with his cheeky face in!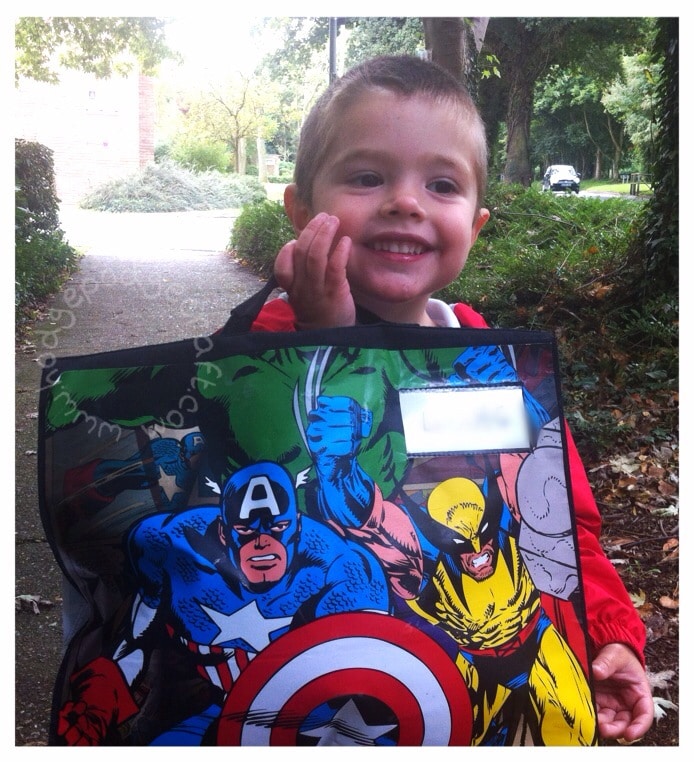 What do you think?  Would you like to have a go?  If you prefer princesses, dinosaurs or tractors, you only need to find some wrapping paper or a poster with those on and follow the same process.  Good luck!
(Visited 759 times, 1 visits today)