No-mess DIY jolly roger flag craft
I came up with the idea for this DIY jolly roger flag craft for Pickle's pirate party because I wanted something mess-free and easy enough for toddlers to make (which they could then take home in their goodie bags).  I had already bought black felt to make Pickle's hat and I always have googly eyes and sparkly stars in the craft cupboard, so I put together this mini flag making activity.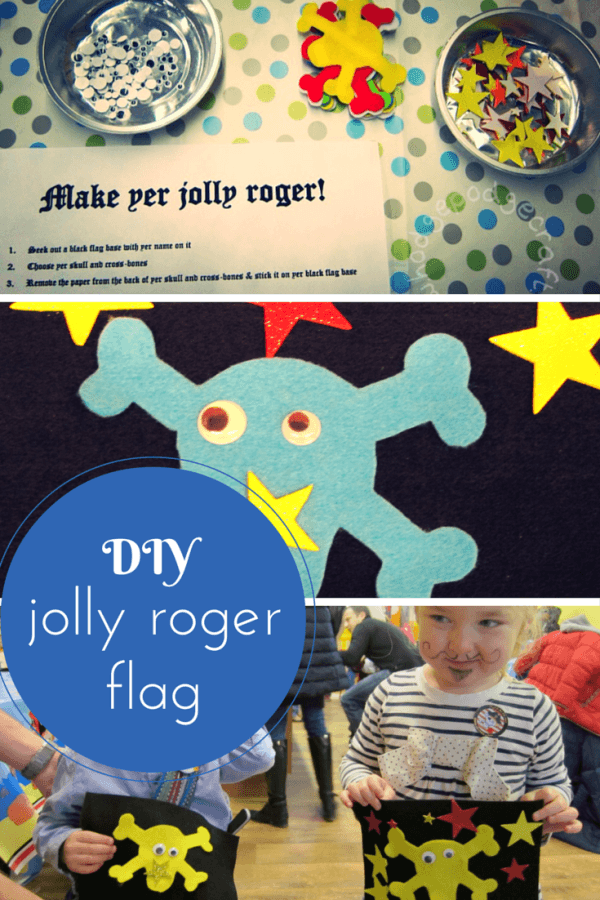 To set up a DIY jolly roger flag craft, you will need:
– double sided sticky tape
– A4 (approx size) sheets of black felt (one per party guest)
– sticky labels (optional, but advisable if you have lots of guests)!
– large felt scraps in other colours
– sticky-backed googly eyes
– self-adhesive stars or similar
– scissors
– shallow trays (recycle food containers?) – optional
– mini jolly roger template (free printable here: 4x jolly rogers A4)
COST: a few quid
AGE: toddlers and up
TIME: 1 hour or more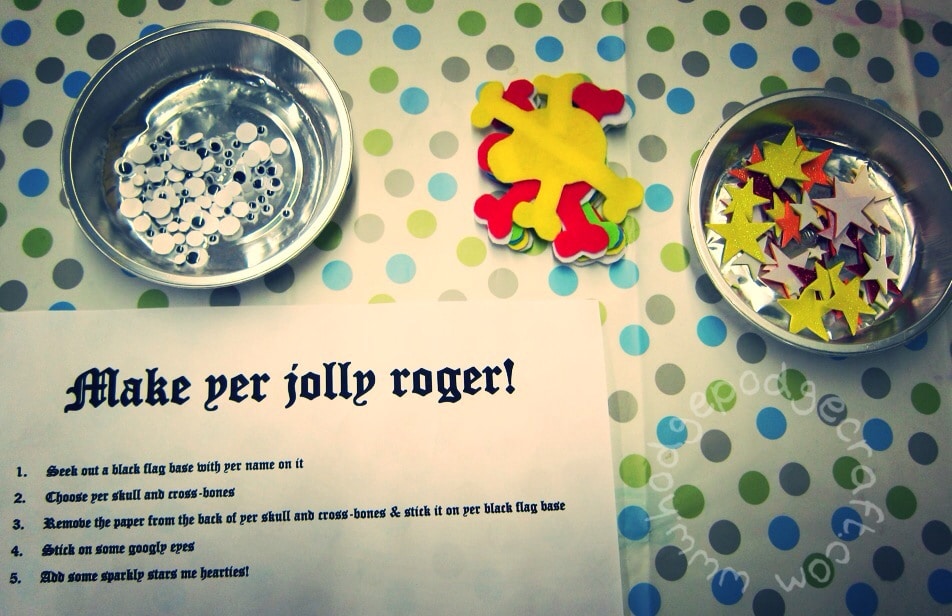 How to make a DIY jolly roger flag:
Take one black sheet of felt for each party guest (label these if you have lots of guests to save confusion later).  These will form the 'base' of each flag.
Download the free printable jolly roger template (above) and cut simple jolly roger shapes out of different coloured felt scraps.  If you want to offer your party guests a choice of colours, cut out plenty of extras, rather than just one each, but this is quite time-consuming, so you might want to ask friends and family members to help cutting them out…
Cut strips of double sided sticky tape and stick them on the back of each jolly roger shape.
Set out a table with the flag bases laid out and plenty of googly eyes and stars (or other sticky-backed shapes) in shallow trays and let the kids create their own flags.  Pickle & his younger guests tended to put the googly eyes on the 'chin' of the jolly roger, making it look more like a frog (see below – much cuter than a skull and cross-bones)!  Everyone seemed to enjoy crafting and there was almost no mess to clear up afterwards (just the backing paper pieces).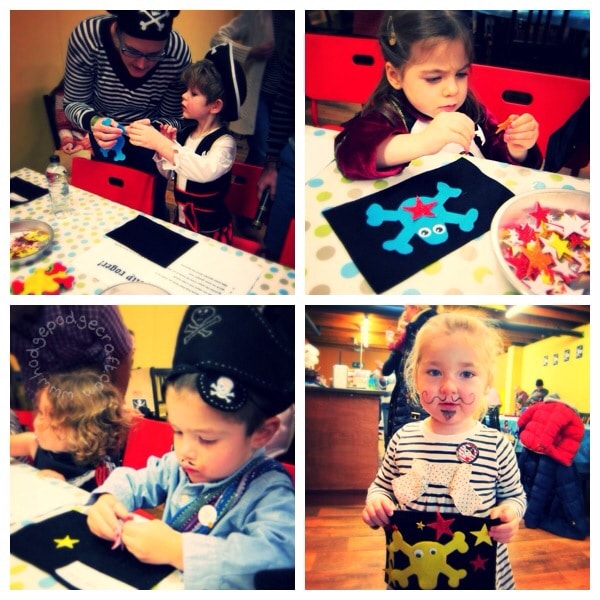 If you like this craft, you might also like to try making a pirate ship cake, salt dough doubloons, or a DIY pin the eye-patch on the pirate game.
P.S. HOW CUTE are the little pirates?  I just love that everyone dressed up and got into the pirate party spirit!
(Visited 1,270 times, 1 visits today)