Easy Duck Tape World Cup Craft
Why not try this easy football world cup craft, using Duck Tape?  You can design your supporters' scarves and strip using Duck Tape in whatever colours you choose!
We're embracing football fever with this easy world cup craft using Duck Tape: paper chain football supporters!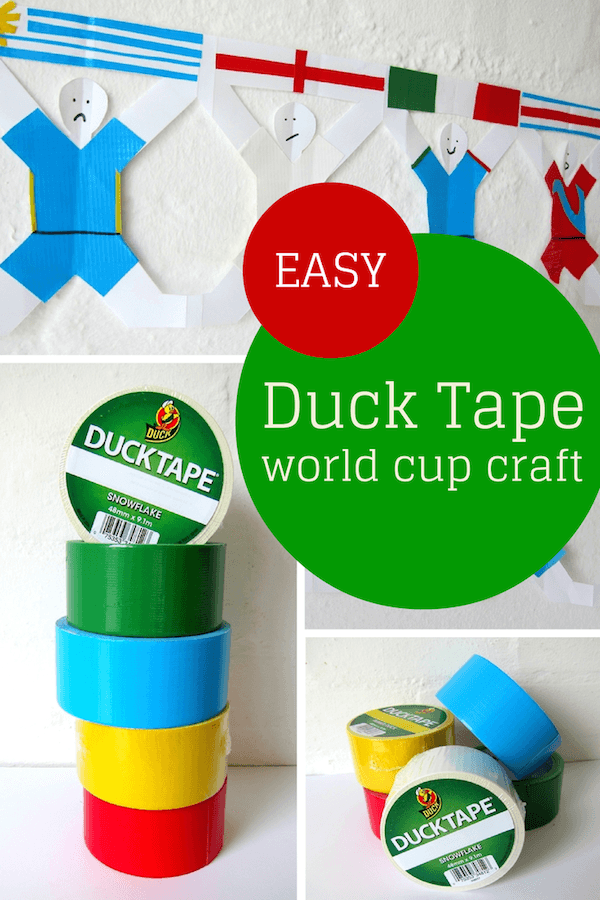 We are so excited to be part of the Duck Tape Fifa World Cup sweepstake along with 7 other bloggers (check out their fantastic crafts at the bottom of this post)!
To make an easy Duck Tape world cup craft,  you will need:
plain paper (A4 will give you 2x chains of 4 supporters, A3 will give you 4x chains of 8 supporters)
a pencil
scissors
waxed paper (optional, but this makes creating stickers from tape much easier!)
Duck Tape in whatever colours you choose to use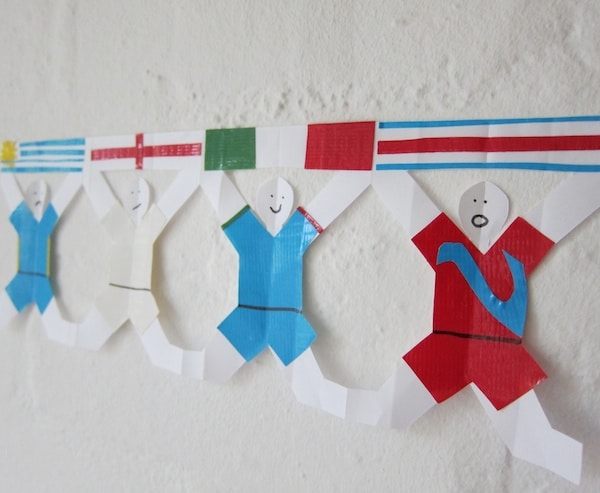 How to make this easy Duck Tape world cup craft:
Download and print the free template onto A4
Choose your paper size, then use the template to trace the outline of 1/2 a supporter, making sure you place the foot and scarf edge next to the edge of the page.  You can repeat this up to 4 times, depending on the size of your paper
Fold your paper along the middle edge of the supporters, then continue to fold, backwards and forwards in a concertina/fan fold until the whole paper is used.
Cut the shape out, making sure to leave the folded edges intact.
Unfold your supporters and admire your paper chain team of football fans!
Use Duck Tape to decorate your team scarves (we used the flags of our allocated group – Group D: Uruguay, England, Italy and Croatia)
Use the team kit template to add your team strip (we found the tape sticker tutorial from little lovelies incredibly helpful: using a waxed paper backing makes it easy to cut out a template neatly, without the tape sticking to itself)
Add details with a Sharpie
Good luck, whichever team you're supporting in the world cup!
Here are the other fantastic world cup inspired crafts from my fellow sweepstake bloggers:
Gorgeous flag hair bows at the Purple Pumpkin
Fun noisy team rattles at Knees up Mother Brown
Hand-held flags and a world cup trophy at ET Speaks From Home
Flag learning and craft activiy at 92three30.com
Patriotic bunting, flags, roses and a shaker at Sweet Craftiness
Flags and pompoms at In The Playroom
A badge, flag, bunting and banner at Mama Mummy Mum
Looking for more world cup craft inspiration?  Why not check out my football crafts & activities board on Pinterest?


This post contains affiliate links for your convenience.