How to make easy no-carve mini glitter pumpkins
How to make gorgeous mini glitter pumpkins (easy enough for a toddler to do)!
These mini glitter pumpkins make great table centres for Halloween or Thanksgiving!
Having 2 boys under 3 means I am chief pumpkin carver in our house.  They can't be trusted with knives (obviously!) and while they could help with the scooping out of seeds and innards, Pickle isn't too keen on getting slimy and Chops isn't keen on doing anything that Pickle doesn't want to do!  They were, however, very excited to decorate pumpkins and Grandad bought them these adorable mini pumpkins, so we decided to do something special with them – mini glitter pumpkins – easy enough for an 18 month old to make (with almost no help)!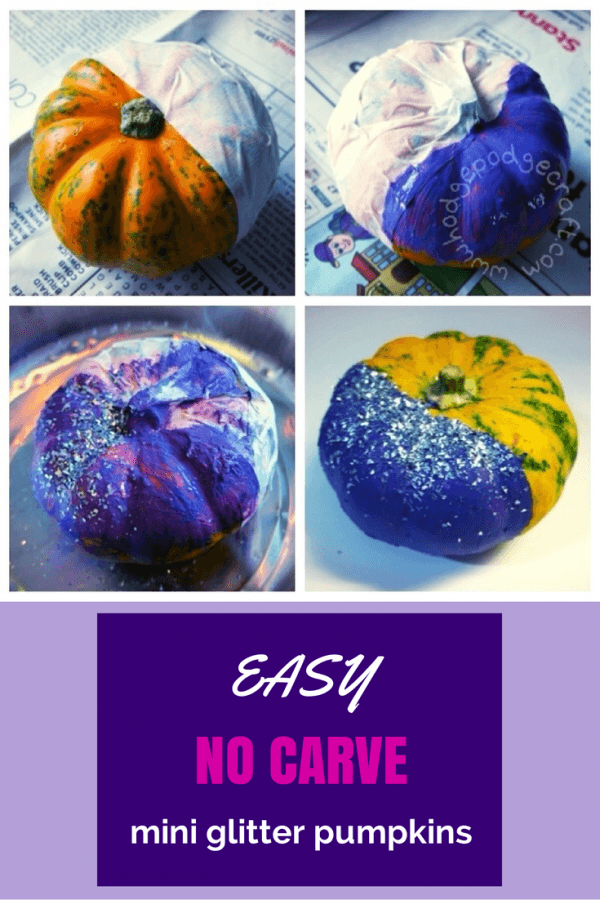 To make mini glitter pumpkins, you will need:
mini pumpkins (we used munchkins – cute name, huh?)
masking tape (optional)
paint (we used acrylic)
glitter (in shakers for the little ones!)
COST: a few quid
AGE: toddlers up
TIME: 10 minutes, plus drying time
How-to make mini glitter pumpkins:

Cover all surfaces with newspaper and children with old shirts/smocks.
Use masking tape to cover some of (about 1/2) your munchkin.  You don't have to do this, but I liked the way that our finished munchkins retained some of their natural beauty.
Let your little ones loose with the paint – the thicker and gloopier the paint layer the better.  Older (more patient!) kids could let theirs dry before adding a 2nd coat, or masking off another section and using a different colour.
Sprinkle on a liberal amount of glitter (which will stick to the paint).  We put our munchkins into trays before this step, in order to catch any stray glitter.  Chops loved this bit best – we had to wrestle the glitter away from him, even after he'd unscrewed the lid and dumped it everywhere!
For a more professional and durable finish (perhaps if you were making these as a centre-piece for an Autumn wedding), you could paint a couple of layers, allowing each to dry, then use Mod Podge to stick on the glitter.
Allow to dry completely (overnight is best)
Peel off masking tape and admire your sparkly munchkins!  Easy, right?
https://www.instagram.com/p/gERBTXGekW/
If you want to carve your pumpkin instead of painting it, check out for my top 10 pumpkin carving tips to make it easy for yourself and help your finished pumpkin to last longer…