How-to: busy mum's Christmas door decoration
This Christmas door decoration will make your house look festive for free in just a few minutes!
Every year I want to have a Christmas door decoration, so I take a look at the gorgeous wreaths and festive floral decorations in the shops.  Then I look at the price tags and think 'I could make something like that for free!'  So I do (and here's how).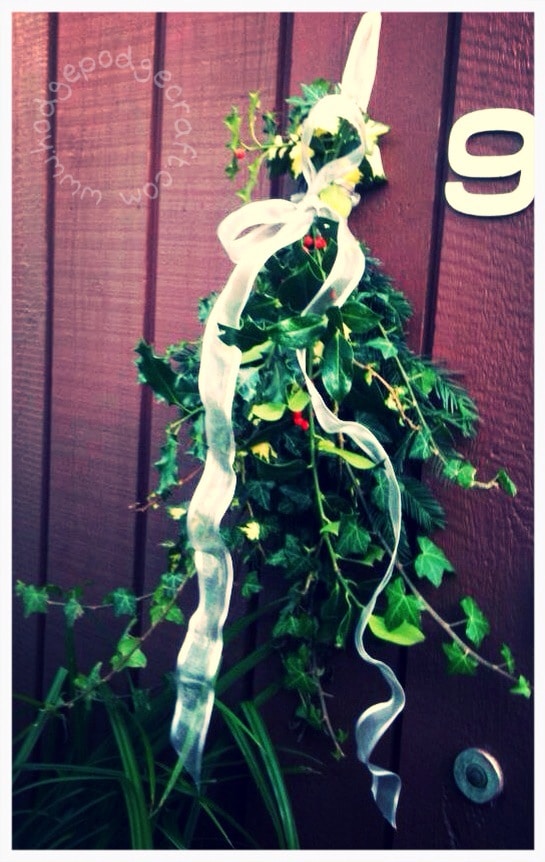 To make a festive Christmas door decoration, you will need:

a rubber band
some festive ribbon (at least a metre)
local evergreen foliage (I used ivy, holly and some kind of spruce/pine?)
COST: free/pennies
AGE: young kids plus
TIME: 10 minutes for assembly (allow more to collect the foliage)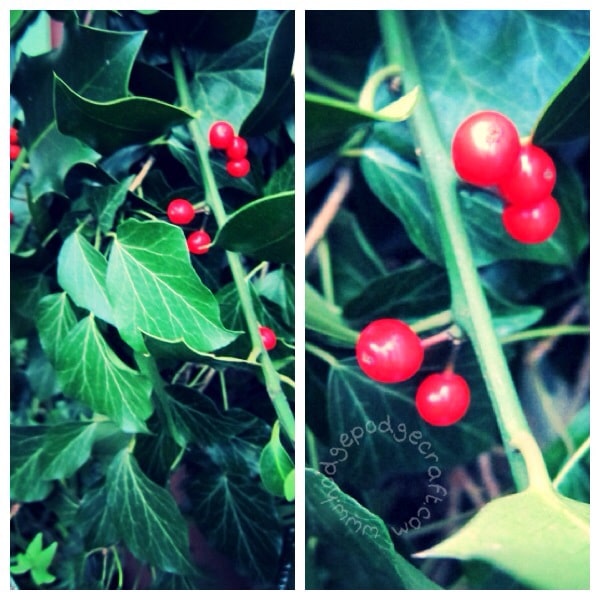 How-to make a festive Christmas door decoration:
Go for a walk with a pair of secateurs and  gather some local evergreen foliage (I like to try and find some holly with berries on, as the red and green colours look so festive together).  Try to gather branches of varying textures and lengths (between 50-100cm).  If you are taking small people with you, just be extra careful that they don't sample any berries!
Once you get home, clean the foliage if needed with some damp kitchen paper (I try to gather mine after a rainstorm, when it's already clean!), then trim any leaves off the top 10cm the stalks (closest to where you cut them).
Arrange your foliage with the longer branches at the back and the shorter, more colourful branches (with berries) at the front.
Tie the branches together securely with a rubber band.
Wrap the ribbon around the rubber band a few times until it is completely covered, then tie it in a large bow (leaving the loose ends dangling).
That's it, you're done.  Admire your gorgeous Christmas door decoration!