How to make a fantastic, easy peasy chocolate pirate ship cake in just one morning!
Probably the easiest ever pirate ship cake tutorial. You can bake and decorate this cake in one morning – perfect for a little buccaneer's party!
I find birthday cake making quite stressful – I pile pressure on myself (Will it taste good?  Will the birthday boy like it?  Will he even know what it's supposed to be?)!  It's not really possible to prepare and decorate a cake well in advance (because it would be stale and also because it's best to decorate/construct in-situ, to reduce the chances of cake-toppling disasters) and that time pressure only adds to stress-levels…
So as you can imagine, I was pleasantly surprised at just how easy making this chocolate pirate ship cake turned out to be.
Especially since I had to make it in one morning (date night Friday, baby shower Saturday, party Sunday)!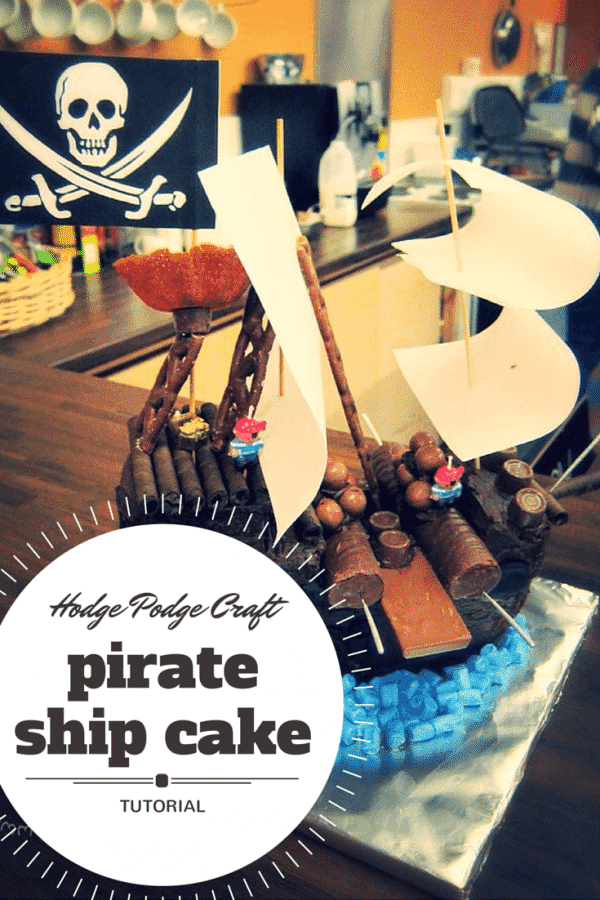 *this post contains affiliate links*
When you purchase something after clicking on an affiliate link, the price you pay will not be affected, but I will receive a small commission from the seller.  Thank you for supporting Hodge Podge Craft in this way.

To make an easy peasy chocolate pirate ship cake, you will need:
For the sponge base (2x large round chocolate sponge cakes):
– 300g self-raising flour
– 50g cocoa powder (we used Green & Blacks)
– 2 rounded teaspoons of baking powder
– 6 large eggs
– 350g caster sugar
– 350g very soft butter
– 1 teaspoon of vanilla extract
– 2x large (approx 10″ wide, 2″ deep), round cake tins.
To Decorate:
– 900g Betty Crocker ready to use chocolate fudge frosting (or similar)
– a cake board
– 50g black ready-to-use fondant icing
– 80g Malteasters
– 4x chocolate swiss rolls
– 2-3x Curly Wurlys
– 2x packs of Rolos
– Chocolate rolled wafers (we used Caprice)
– A thin plain chocolate bar (we used Lindt)
– Large bag of mini marshmallows
– Blue food colouring (a few drops)
– Pale coloured jam (or marmalade)
– a brandy basket
– 3-4 wooden skewers
– 1 metal skewer
– rice or potato paper (if you want it to be edible, otherwise any black or white paper will do, especially if you draw some jolly rogers on it!)
– pirate figures (paper, plastic toys, or candles)
– 4x mini sparklers
COST: a few quid
AGE: make for babies and toddlers / make with older kids
TIME: over an hour
How-to make an easy peasy chocolate pirate ship cake:
1. Make 2x large (10″ wide) round sponge cakes using Delia's all-in-one sponge recipe method (I doubled her ingredients to make 2 deep sponge cakes, rather than 2 thinner sandwich sponges) and leave these to cool on a wire rack for at least an hour and a half.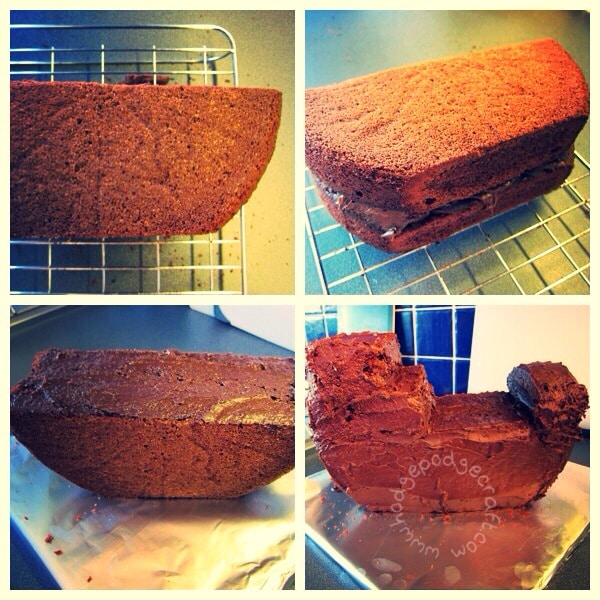 2. Cut one of the cakes in half across the centre and sandwich one semi-circle on top of the other with chocolate frosting (if they have risen a lot, you may have to cut a little from the top to make it flatter, allowing the two halves to adhere to each other).  Then cut a small slice from the bottom to make a flat base, place the cake halves on end on the cake board to form a basic boat or ship shape.
3. Cut the rounded edges off the other cake (but do not discard these), forming a strip of cake that is the same width as your ship base (I used a piece of scrap paper to measure this).  Cut this strip into 2 rectangles, one slightly larger than the other and place them one on top of the other at the back of your ship base, using chocolate frosting to stick them in place.
4. Take one of the rounded edges and use chocolate frosting to stick it, flat (cut) edge down, on the front of your ship base.  It will overlap the sides a little, so just trim the sticky-out bits with a bread knife.  Cover the whole basic ship shape with a thin layer of chocolate frosting and place it in the fridge for 30-40 minutes (this will fix any loose crumbs).  Don't leave it for longer than this, or your sponge will dry out.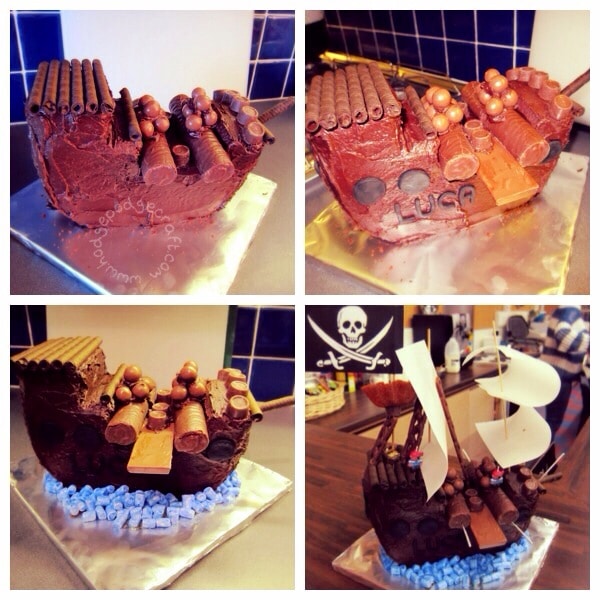 5. Cover your ship base all over with a second layer of chocolate frosting and smooth with a pallet knife.  Use black ready-to-use fondant icing to make a few portholes and any other details (name, age etc).
6. Add mini chocolate rolls to form cannons, Rolos to represent barrels of rum/kegs, chocolate rolled wafers to form the prow and rear 'roofing', plus a chocolate bar gang plank (I used a hot butter knife to cut a large Lindt bar in half lengthways).
7. Mix the mini marshmallows with the blue food colouring in a bowl until they are take on colour.  Spread your jam (or marmalade) around the base of your ship, then pile the min marshmallows on top, squishing into the jam a little so that they stay in place.  This will form your 'sea'.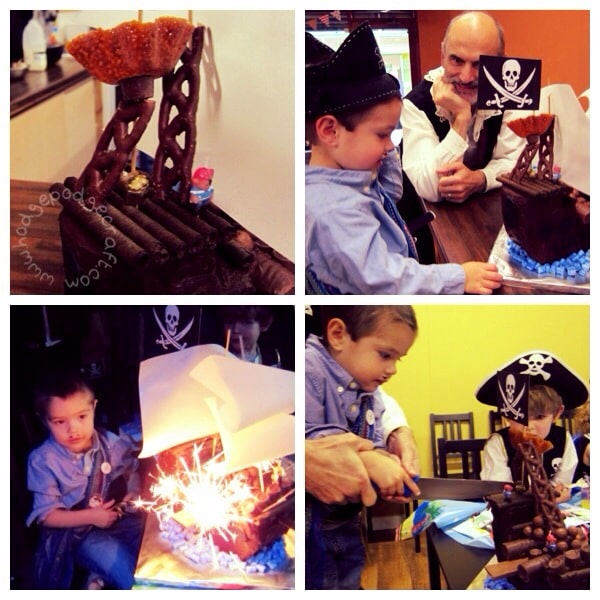 8. Add wooden skewer 'masts', with (rice) paper sails, brandy snap basket 'crow's nest' (see below for tip) and Curly Wurly 'rigging' (I put these on at the last minute, simply balancing the rigging against the masts – it also served to prop up the 'crow's nest'!
TIP: How to make a hole in a brandy snap basket without it cracking:
Take a metal skewer and heat it in a mug of just-boiled water, then use the hot skewer to gently press and 'twizzle' in the centre of the brandy snap basket base, remove the skewer, reheat and repeat, little-by-little wearing a hole through the bottom of the basket, which you can then thread a wooden skewer 'mast' through (this took me about 5 minutes).
I used a Rolo to try and support the 'crow's nest' from below, but in hindsight, I think something stickier, like a wine gum would work better and be more sturdy.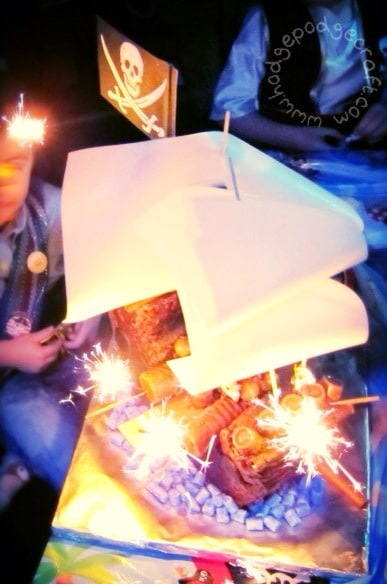 9. Poke some mini sparklers into your cannons, ignite and wow your swashbucklers!
10. Check out all my other DIY pirate party craft ideas
That's it!  Now you know how to make an easy peasy chocolate pirate ship cake.  Happy baking x
P.S. If you're looking for a child's birthday card, take a look at The Paperdashery's selection…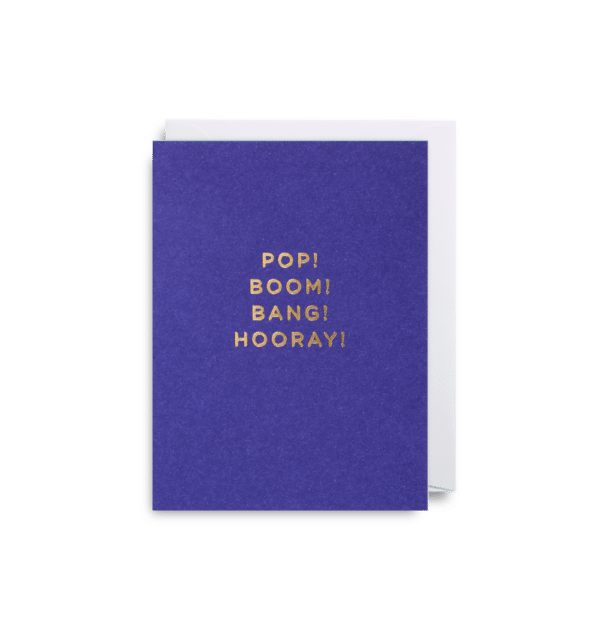 Save
Save