How to make aged pirate party invites or an authentic treasure map!
The first in a series of pirate party tutorial posts: how to make aged invitations using tea (including a free Word template)
Yaaarrrr…
Pickle will turn 3 next month and has requested a pirate party.  As ever, I have a whole heap of ideas and a limited amount of time, but will do my best to include as many pirate party how-to posts as I can here (plus a round up post with everything linked in, once the party has happened of course)!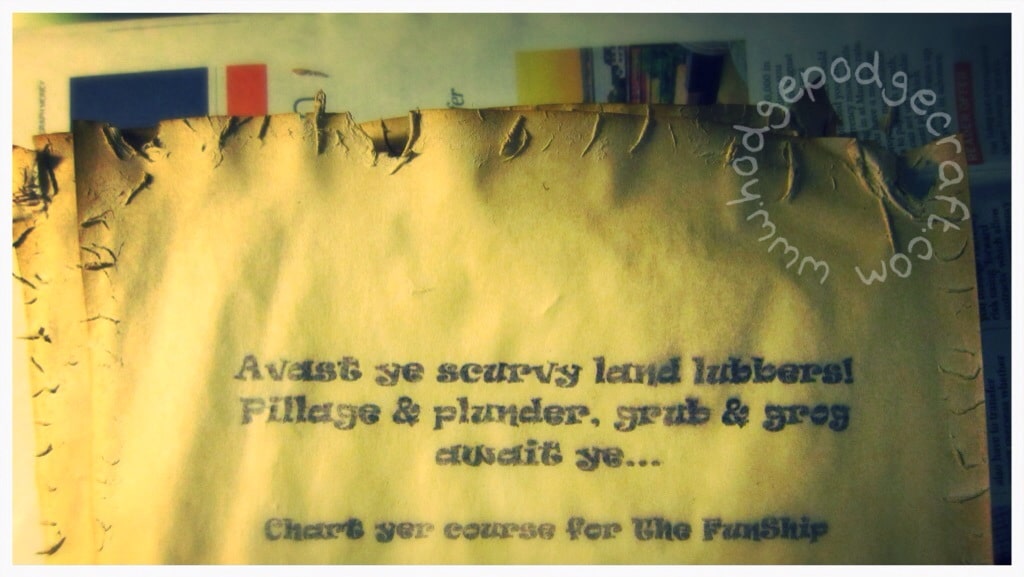 Here's the first of the crafty preparations: How to make pirate party invites (and a treasure map).
You will need:
– a computer with a printer and A4 / letter paper
– strong (cold) tea*
– a baking sheet
– an oven
COST: pennies
AGE: young children +
TIME: 5-10 minutes per invitation
How-to:
Start by writing your invitation using pirate language (Me vs. the House has some great examples of pirate phrases).  You can use this free pirate party invite template as a starting point – just replace all the pink text with your own party details.
Choose an archaic pirate-style font for your invite.  We used Lucida Blackletter, but you could also use an Old English style font, or download a Gothic font for free by following the links at Me vs. the House.
Check your formatting and details, then print your invitations.
Preheat your oven to 180c
Place your first invitation on the baking sheet and pour tea all over it, letting it soak all the way through the paper
Pour the tea off and then rub around the edges of the paper to make it uneven/slightly torn in places, especially the corners
Place the baking sheet, with the wet invitation into the oven.
Keep a close eye on the invitation while it bakes.  Mine only took about 3 minutes each to be completely dry and starting to lift off the baking sheet
Once your invite is ready, take it out and lift off the paper using tongs, or a pallet knife.
Follow the same process with each invitation, until they are all 'aged' to perfection.
https://www.instagram.com/p/f3VFwSmegt/
I also drew a map for our party guests, photocopied and aged it in the same way and included it with the invitations.  I gave each of the children their own pirate name (Mister Podge banned me from calling any of them 'Bloodthirsty' or 'Cut-throat', the spoilsport), but luckily Eriks Deli Cafe blog has some great ideas for (toddler-safe) pirate names.
That's it me hearties!  Now ye know how to make ye olde pirate party invitations.
P.S. What's a pirate's favourite letter of the alphabet..?
Aaaarrrrrrrrrrrrr!  (of course)
*apparently this can also be done with coffee, but may give the invites a strong coffee scent…
(Visited 912 times, 1 visits today)