How-to make a speech bubble photo gift for Daddy
This speech bubble photo gift for Daddy is a great gift for any loved one (little or no artistic skill required)!
A fantastic way to display all those cute photos you have of your kids with their Daddy.

To make a speech bubble photo gift for Daddy, you will need: 
– cute digital Daddy & child(ren) photos (I bet you have loads!)
– a nice frame
– a fine whiteboard marker
COST: £10+ (depending on your choice of frame)
AGE: 8+ (but younger ones can help!)
TIME: 1 hour (you will also need to allow time for your photos to be printed and posted)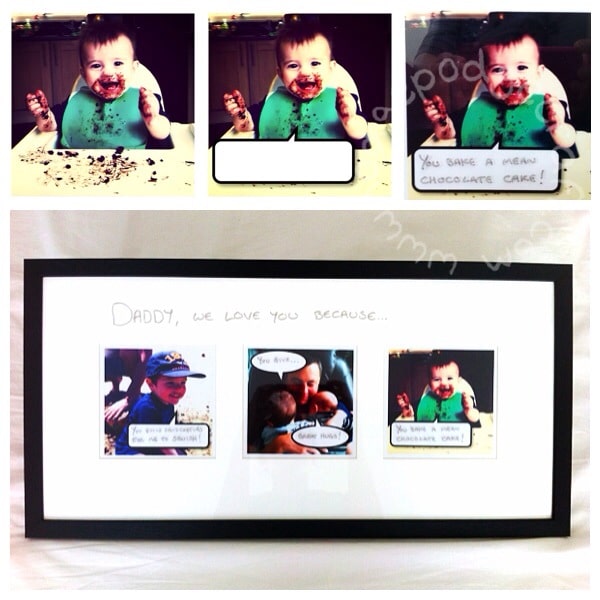 How-to make a speech bubble photo gift for Daddy:
I asked Pickle what he loves most about Daddy (Chops can only say car, clock and moo, so no point asking him this year!) and then we found some photos on my phone that represented some of Pickle's ideas.
I then used an app called One Stop Photo Notes (which lets you easily add text, speech and thoughts) to place speech bubbles onto the photos.  I edited the speech bubble colour, size, shape and position using the app (it's very intuitive).  I left the speech bubbles blank (by putting a space inside, otherwise the bubble would say "sample text").  Of course you could enter text in here if you wanted to, but I decided to keep them blank (you will see why later).
After saving these to my phone, I then uploaded them to photobox and ordered large prints.  Once these arrived, I framed them and used a whiteboard marker to write a Father's day message on the mount (over the glass) and filled in the speech bubbles.  I like that we can change the writing in the speech bubbles whenever we want to.
Although we did this for Fathers' day, it would work just as well for Mothers' day or as a gift for any loved one's birthday.  I have to credit Amy at Positively Splendid for the inspiration behind this.  Her idea is different to mine, but it inspired me to do something similar (my boys won't sit still long enough to pose for pictures!), so thank you Amy.
Happy Fathers' Day!
The boys also made Mister Podge these gorgeous cards and plaques while they were with their child-minder – how cute are these?  Thank you Jane!
https://www.instagram.com/p/aney4gGeso/
(Visited 188 times, 1 visits today)