Last-minute, quick Easter crafts
Searching for last-minute, quick Easter crafts for kids?  Look no further!
Iced Easter bunny biscuits, funny dancing eggs & super-cute felt chick, plus link up to this weeks #Pintorials
Wow – what an amazing selection of #Pintorials we had last week.  We were totally spoilt for choice, so thank you!
After much indecision, I've chosen to feature some more fabulous last-minute, quick Easter crafts for kids.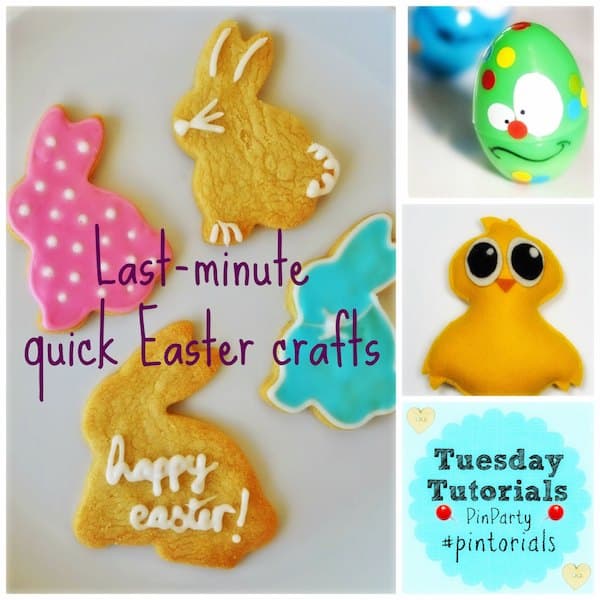 Iced Easter bunny biscuits from The Things She Makes: Totally gorgeous and fantastically chic.  I know that if we made these, they would look a total mess, but I'm also sure they would still taste delicious!
Funny dancing eggs from Frog in a pocket: What a clever, fun, simple and thrifty craft idea for kids.  I love the one with the button hat best.
Easter Felt Chick how-to from The Felt Store: How cute is this little guy?  Made using felt scraps – love him.
Why don't you take a look and see what Kate, Anna & Anthea are featuring this week too?
If you'd like to link up again, here's a reminder of the rules (remember – please only link up one post per week)…
The #Pintorials Rules:
Add the URL of your Pin or blog post below. We will then add it to our Pintorials Pinterest Board. It must be an instruction based post of some kind but this could be crafts, recipes or anything else. It can be old or new, but please only add each thing once and add only one post a week.
Follow the Pintorials Pinterest Board. If you'd like to follow your hosts too that would be fabulous.  We are Gude, Kate, Anna and Anthea.
Visit at least 3 of the sites pinned below and pin them to one of your boards. If you'd like to say you're visiting from #Pintorials that would be marvellous. Of course you can pin more than that if you want!
You don't have to use the badge, but it would be great if you can, or if you'd give us a text link. The more people know about Pintorials, the more can join in the party!
P.S. You can grab the blog badge here if you'd like to use it.
Tuesday Tutorials Linky:
(Visited 224 times, 1 visits today)