Let's play dress-up! (Tuesday Tutorials)
3 easy dress-up crafts: learn how to make a dinosaur tail, a carnival mask and a feather necklace.
Join in with this week's #Pintorials and we will Pin and share your post.
Welcome back to Tuesday Tutorials (and thank you for sharing your #Pintorials)!  This week I'm featuring dress-up crafts and they're all lovely!
Why not drop by and see what Kate, Anna & Anthea are featuring this week too?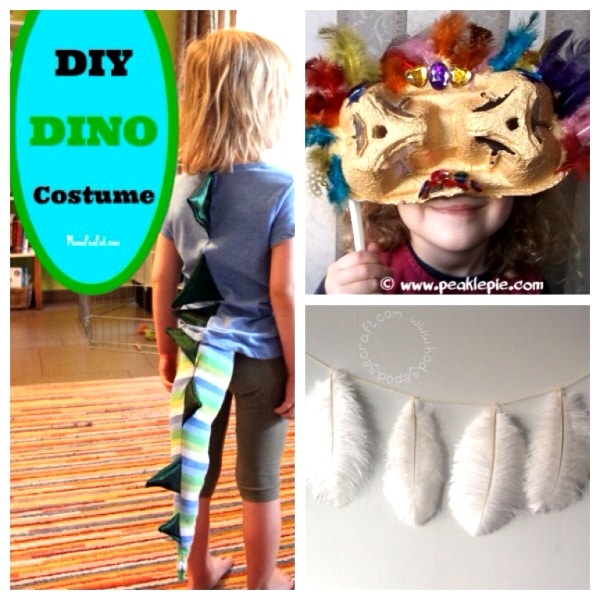 1. Sew an easy DIY dinosaur costume from old pyjamas, following this step-by-step tutorial from Mama Pea Pod
2. Decorate a Mardis-Gras-inspired carnival mask from a recycled cardboard drinks holder, taking inspiration from Peakle Pie
3. Thread a beautiful feather necklace using Crafts On Sea's top tips
Do you have the perfect Mothers's day gift, card or recipe?  Please link up this week if you do, as that's what I'm planning to feature next week!
Here's a reminder of the rules…
The #Pintorials Rules:
Add the URL of your Pin or blog post below. We will then add it to our Pintorials Pinterest Board. It must be an instruction based post of some kind but this could be crafts, recipes or anything else. It can be old or new, but please only add each thing once and add only one post a week.
Follow the Pintorials Pinterest Board. If you'd like to follow your hosts too that would be fabulous.  We are Gude, Kate, Anna and Anthea
Visit at least 3 of the sites pinned below and pin them to one of your boards. If you'd like to say you're visiting from #Pintorials that would be marvellous. Of course you can pin more than that if you want!
You don't have to use the badge, but it would be great if you can, or if you'd give us a text link. The more people know about Pintorials, the more can join in the party!
P.S. You can grab the blog badge here if you'd like to use it.
Tuesday Tutorials linky: