How to make space-themed DIY fuzzy felt
One of the simplest and most fun crafts we have tried this year: learn how to make a space-themed DIY fuzzy felt board set, with free printable templates.
I really wanted to make a DIY fuzzy felt board set for Pickle after he enjoyed playing with the ELC version at his child-minder's house.  At first I wasn't sure if there was a magic formula to make the felt stick to the board, but after a bit of Googling, I realised that felt will stick to itself (and also to flannel), so it was pretty straightforward!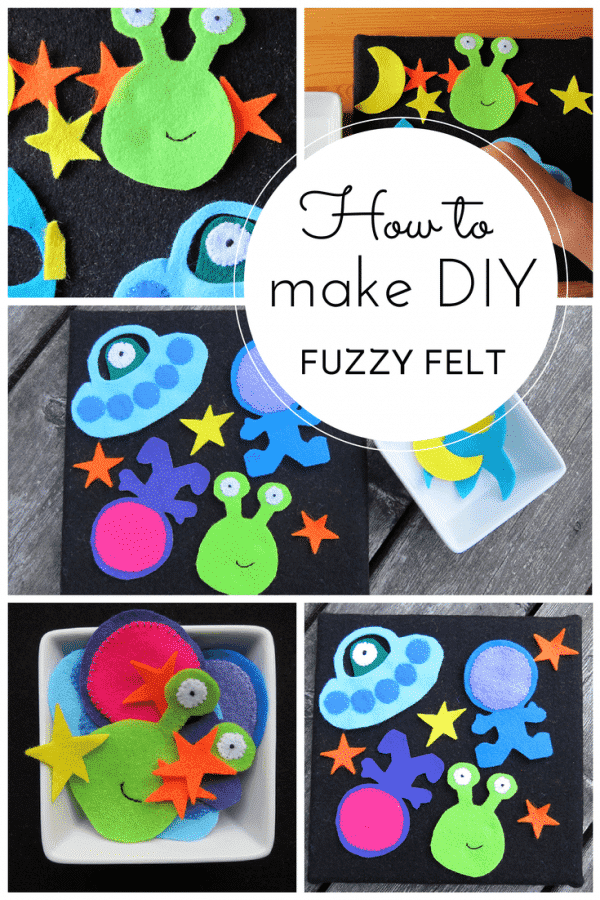 To make space-themed DIY fuzzy felt, you will need:
a canvas or wooden frame (any size you like)
a piece of black felt or flannel large enough to cover your frame or canvas, plus an extra 4cm overlap
an upholstery stapler (and staples!)
felt scraps in assorted colours
dress-makers pins
free printable template of space shapes
embroidery thread in assorted colours (and a needle)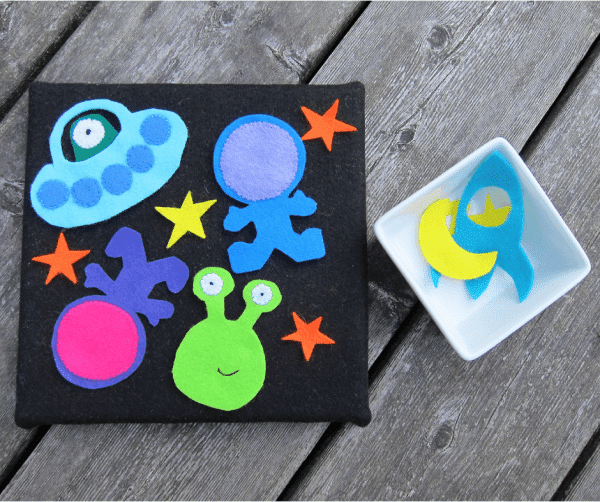 How to make space-themed DIY fuzzy felt:
Cover your canvas or wooden frame with the black felt/flannel using your upholstery stapler (I found the tutorial from Brit & Co. helpful for this)
Download the free printable template of space-themed shapes, pin these to your fabric scraps and cut them out carefully
You can use embroidery thread to add details and features (for example I used back stitch for the alien's mouth and a French knot for his pupils).  I also used different colour felt pieces for the astronauts' helmets and the UFO port-holes and sewed those on (however, you could leave them loose and allow them to be positioned too – I only stitched them together as my boys are so young, they tend to lose really small things!
Pickle was pleased with his DIY fuzzy felt set and spent a good while playing with it in the garden.  He even cut his own removable 'rocket boosters' out of yellow felt and added them on.  He did tell me the astronauts were too big: "Mummy, they can't fit inside the rocket!", so you may want to play around with scale if your kids are anything like mine!
Once you have made the DIY fuzzy felt base board, you can add all kinds of other felt designs (plants, animals, buildings, vehicles for example).
Enjoy your crafting and resulting imaginative play!
Oh and if you liked this craft, you might also want to follow my Pinterest board on SPACE crafts