Need 30 minutes to yourself?
What could be more fun than PlayDoh?  PlayDoh with diggers of course!
You will need:

PlayDoh/play dough (you could even make your own, using the no-cook recipe at handmadeandcraft)
a toy digger
COST: £2 or under
AGE: 1+ (but please make sure the dough is edible!  As usual, Chops wanted to eat, rather than create with it)
TIME: 30 mins  (or more if making your own dough)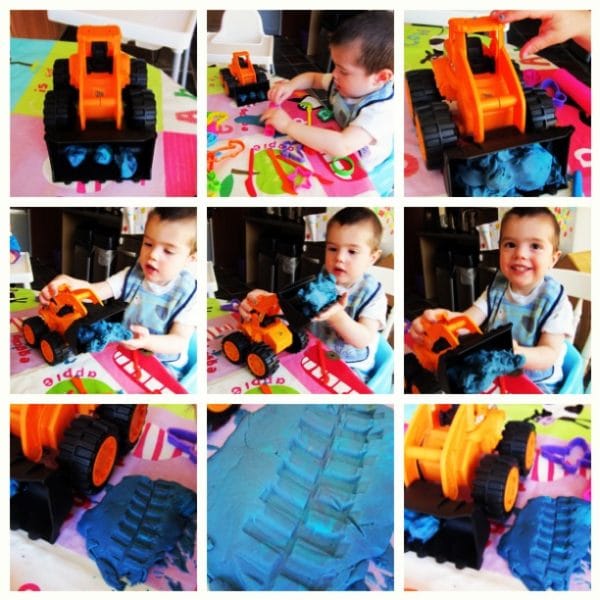 Pickle was keen to "do PlayDoh!" the other day, but once I'd got it all out with the usual cutters and rollers etc. it wasn't long before he started to lose interest…
In desperation (I wanted to finish my cup of tea while it was still hot!), I fetched one of his diggers from the other room and rolled some PlayDoh into "rocks", putting them into the digger's bucket. He cottoned on immediately – lumping all the dough into the bucket, lifting it up and down along with accompanying sound effects.  I also pressed some dough onto the table and drove the digger over it, showing him how the wheels left imprints.  Once he'd tired of making tracks, he used the bucket to scrape up the dough again "like a bull dozer!"* Toddler entertainment for over 30 minutes.  PlayDoh with diggers: result!
What are your favourite Play Doh playing accessories..?
*yes, I know it's not spelled like that, but it is how Pickle said it! 😉
Save