Star Wars kids' embroidery: Yoda quote
Happy Star Wars day (May the 4th be with you)!
I hope you will enjoy this Star Wars kids' embroidery project.  It's super easy and I've included a free printable, so you can get stitching straight away.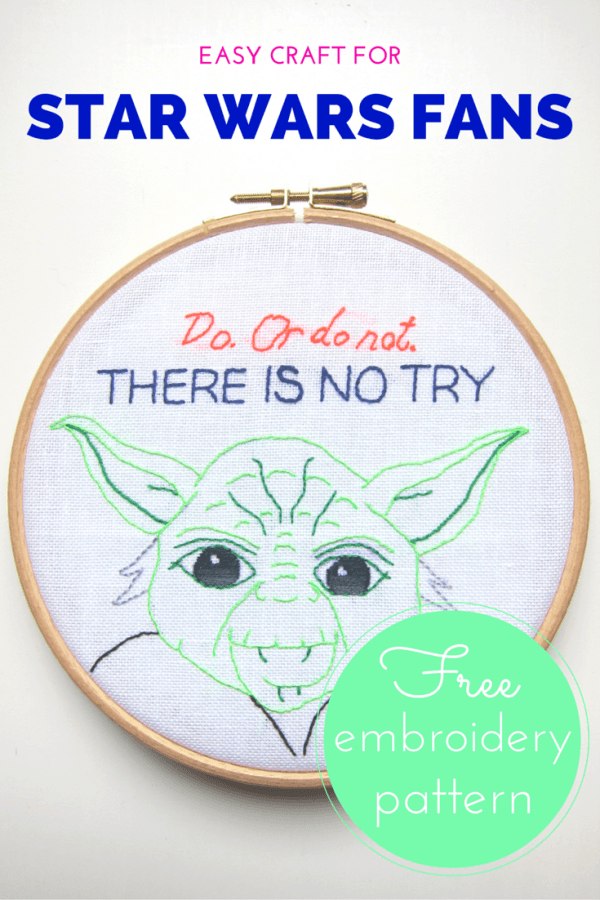 *this post contains affiliate links, which means that if you click on something here, then buy it, I will receive a small payment at NO extra cost to you!*
I must admit, I did have a little trouble drawing Yoda – my first attempt was pretty fierce and grumpy-looking, so I tweaked him until he looked more cute and friendly.  I hope you agree!
To make a Star Wars kids' embroidery, you will need:
Some linen, cotton, or other fabric to embroider onto
A 15cm/6inch embroidery hoop to frame the finished embroidery, plus a larger one for working the design
Embroidery cotton or silks in green (we used a bright green and a neon green DMC thread), black, grey & another colour or two for the lettering
An embroidery transfer pen (optional, but helpful!) or pencil
Tracing paper
A light box (or a window and some masking tape)
A needle
This free printable
Felt (optional, if you want a backing to your finished design)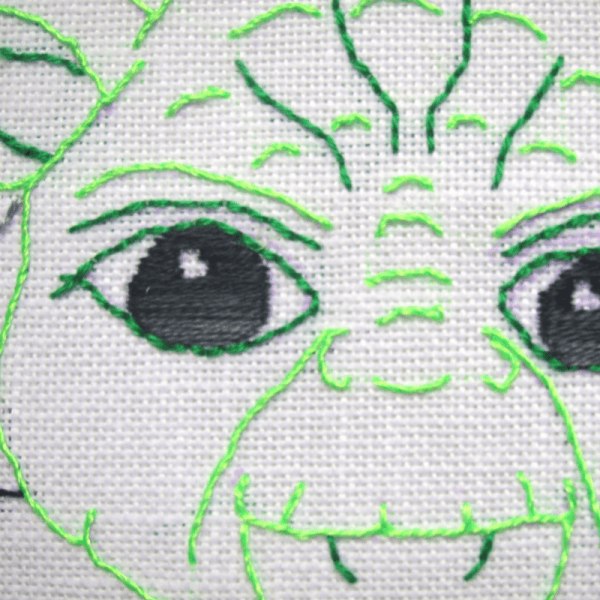 How to make a Star Wars kids' embroidery:
Download and print the free design
Use your light box (or a window) to trace the design onto your fabric using your transfer pen or a soft pencil.  Tip: make sure the weave of your fabric is straight and line it up with the lettering.
Hoop up your fabric in the larger hoop and start stitching! If you want a more professional look, you could include a piece of backing fabric here too (which will hid your little threads at the back so that they don's show through).
You can start sewing anywhere you like.  I started at the top and worked my way down…
I used a combination of back stitch and whipped back stitch, but you could use stem-stitch or another line stitch if you prefer.
Once you've finished, press your finished design (making sure all the transfer pen has faded first, otherwise the heat of the iron will fix it!), then position it into your smaller framing hoop and tidy it up.
Hang it on your wall, or give it as a gift to another Star Wars fan!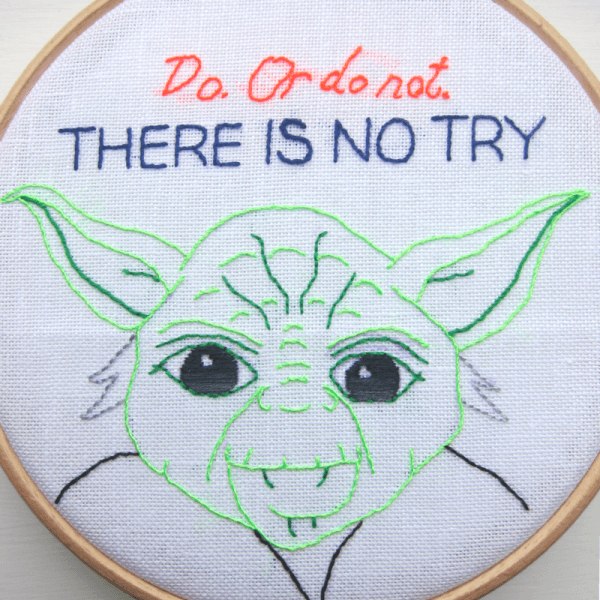 MORE Star Wars kids' crafts and activities..!
Finally, I have some exciting news!
Hodge Podge Craft has been shortlisted for a BritMums BiB (Brilliance in Blogging) award and it would make me SO happy if you would please vote for me here (under category 12: Craft)  Thank you ever so much!