Family Christmas traditions (some crafty, some not)!
I LOVE Christmas.  I mean seriously LOVE IT.  I think it's because my parents (Mum especially) always made a huge deal out of it when we were growing up and had lots of traditions that were (and still are!) repeated year on year.  Mister Podge had his own family Christmas traditions and now that we have our own family, we have combined the two and added our own!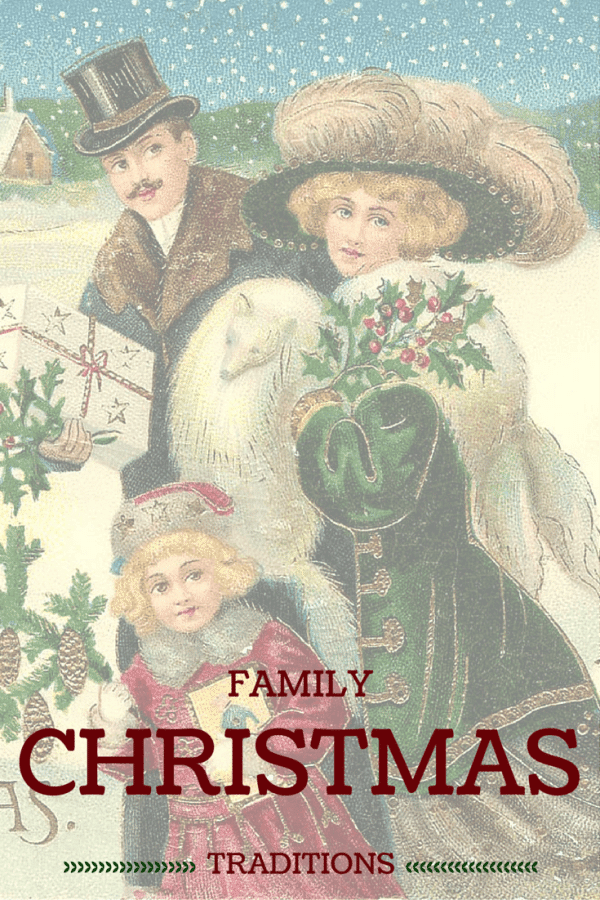 (image credit: The Graphics Fairy)
A few of our Hodge Podge family Christmas traditions:
Home-made stockings: I made Pickle a felt appliqué stocking last year from a kit and am desperately trying to finish Chops' stocking in time for Christmas Eve this year!  I've also made my parents' stockings (yes, Santa visits them too, as long as they've been good)..!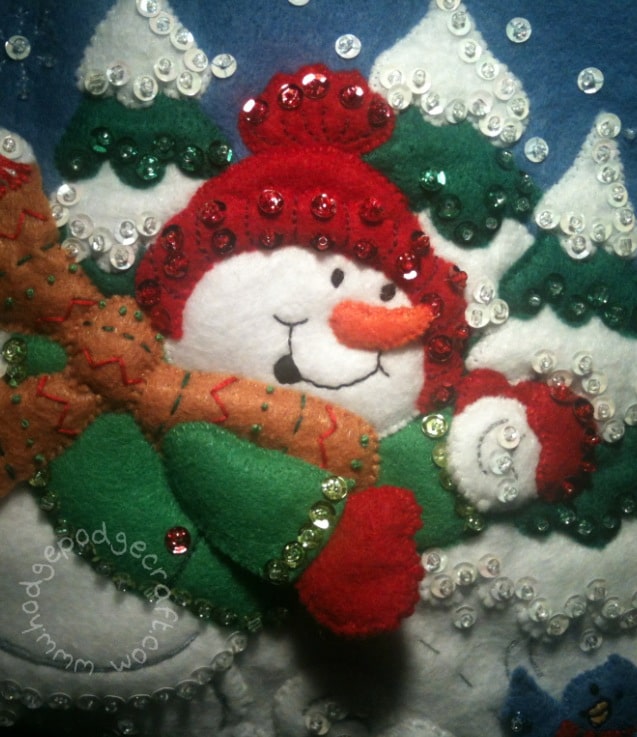 Christmas Eve pyjamas:  This is the one present that the boys are allowed to open on Christmas Eve (the one that fell off the sleigh when Santa was on his way to start his round) – it means they look extra cute in the Christmas morning photos and because they receive them every year, I hope it will become part of the ritual of the night before Christmas bedtime excitement (as opposed to "oh great [sarcastic face], pyjamas again!")
Christmas Day buck's fizz and beigels for breakfast:  The beigels HAVE to be from Brick Lane.  Mister Podge has his with cream cheese and smoked salmon.  It's nice and easy, the kids will eat it and if you can't have some booze at 8am on Christmas morning, when can you?!
Opening stocking gifts in the 'big bed': I love having the little ones in with us (whatever silly time in the morning they wake up), watching them struggle to unwrap their Christmas stocking presents and show us what Santa has left for them…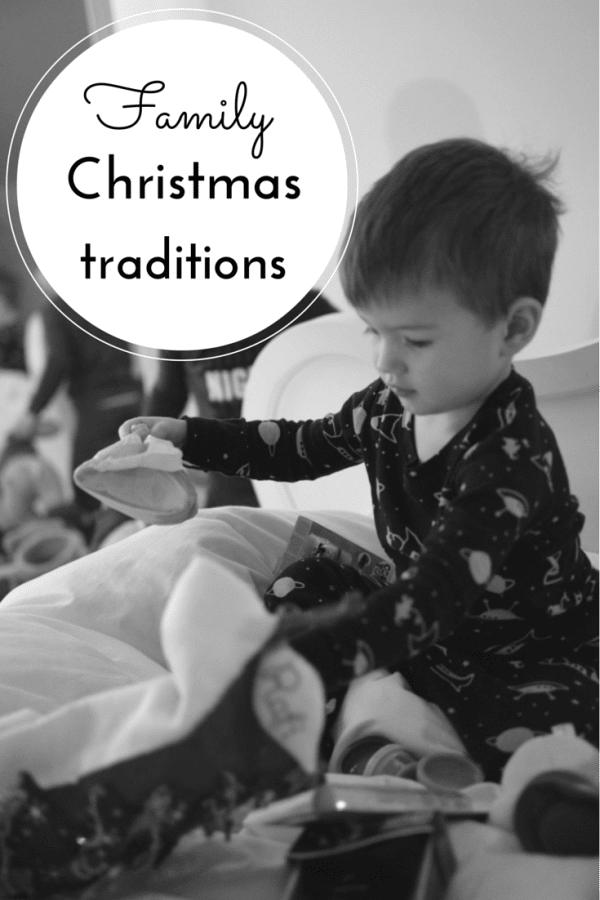 Month of December Sunday lunch family choice: during the run-up to Christmas, instead of having their traditional Sunday roast dinner, Mister Podge and my (now) in-laws would take it in turns to choose what to eat for their Sunday lunch (steak, Chinese take-away, full English 'breakfast', even KFC!) – basically anything other than a roast dinner, making the Christmas day turkey (and roast potatoes) extra-special because they hadn't had anything similar in over a month!
A trip to the panto (He's behind you! Oh no he isn't! Oh yes he is!): Pantomime is almost impossible to describe.  You have to experience it to understand it and I think it is a very 'English' thing.  If you've never seen one, I urge you to go, especially if you have young children (or a childish sense of humour)…   My gran (our beloved GG), watches the children's faces, rather than the actual show – she just loves to see their reactions!  The first year we took Pickle (at 13 months old), he absolutely hated it, but I'm confident that he and Chops will love it this year (he is 3 after all and a 'big boy') – I will let you know!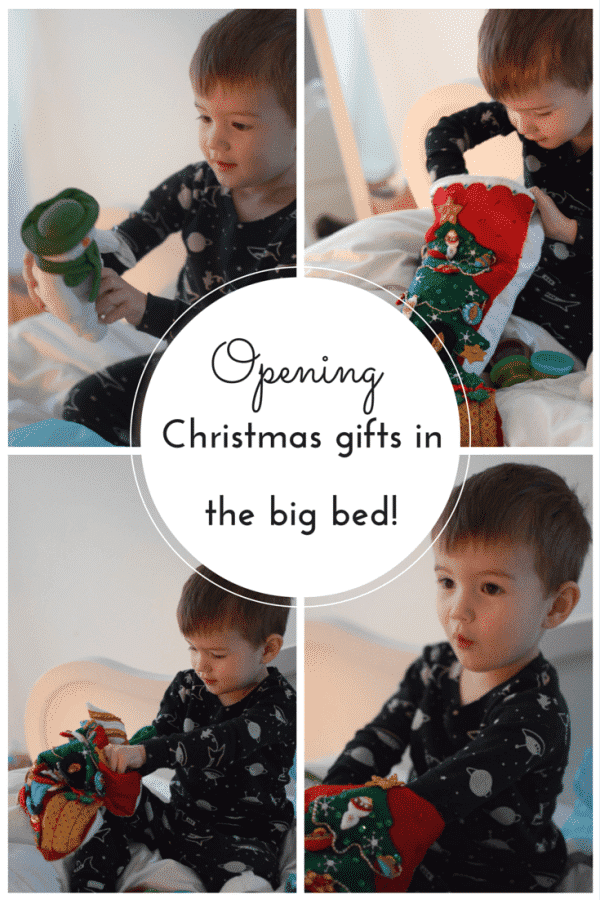 All families have their own special Christmas traditions and rituals and I love hearing about them.  Here are just a few more that I love and am thinking of starting with my boys this/next year…
The Elf on the Shelf: What a magical idea this is!  An Elf from the North Pole comes to stay with your family from Thanksgiving (US) or December 1st (UK) and keeps an eye on behaviour (while being a little mischievous himsELF!) and returns to Santa on Christmas Eve.  Find a free printable letter and lots of fantastic ideas at Making Life Whimsical (plus loads more Elf on the Shelf ideas with photos here too).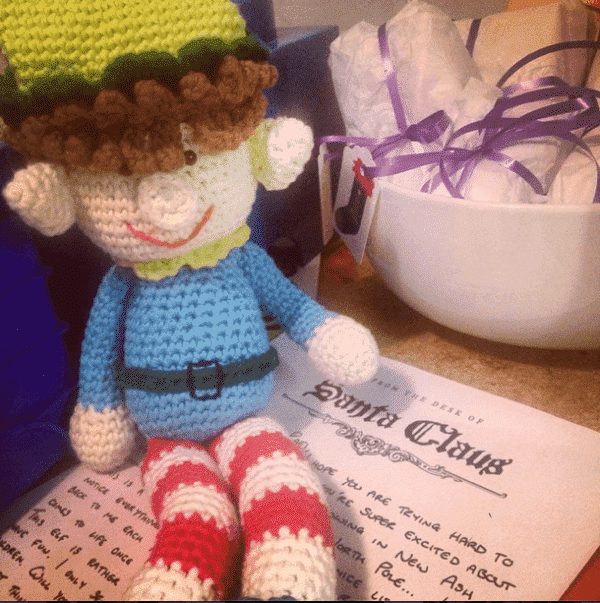 An Elf parcel/hamper: Your Elf on the Shelf might arrive with a hamper, or you might just have a parcel 'appear' on the doorstep, with a note from Santa's elves on the 1st of December – ask your neighbours to help with this conspiracy(?)… it really ekes out the Christmas period (which I am all for, obviously)!  In the Elf parcel you might include a Christmas activity/sticker book, DVD, special writing paper and pen to write to Santa, advent calendar, stocking or favourite TV show/band annual or calendar)
An advent of books: 2 Little Hooligans shares this brilliant idea (and even more brilliant wrapping)!  This doesn't have to cost a lot of money either – check out your local charity/thrift store for Christmas books to include…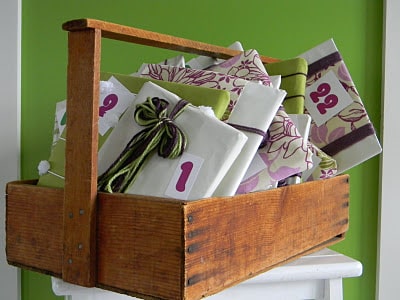 Christmas Eve dinner by candlelight: I don't know why this appeals to me so much.  Perhaps it's the Dickensian, old-fashioned feel of it – in this age of everyone being permanently 'plugged in', the thought of a simple family dinner with no tablets, phones, or anything electric (including lights!) is kind of magical.
Of course I just had to include a few Christmas craft ideas and activities for kids (which could easily become future family traditions!):
Make your own wrapping paper The Perfect Pear uses this gorgeous potato print wrapping – easy for little hands to help with!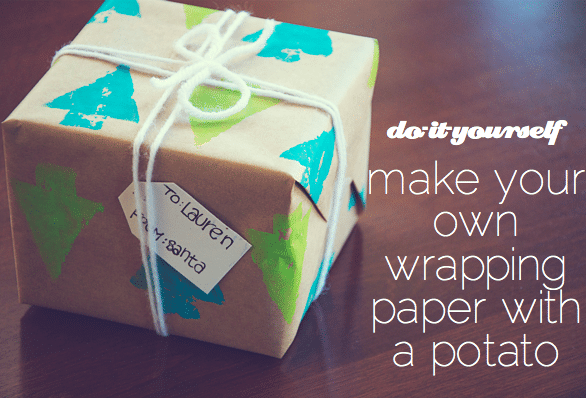 Help the kids to make their own Christmas tree decorations: Set their imaginations free with this Christmas ornament making station idea from A Mom with a Lesson Plan.
Upcycle last year's Christmas cards by making gift tags (example from Milo Made) or Hodge Podge's tiny lidded gift boxes out of them.
Make a mini bauble ornament wreath following the outlaw mom's simple how-to photos.  This is great threading (fine motor) practice for young children, as well as being fun and festive!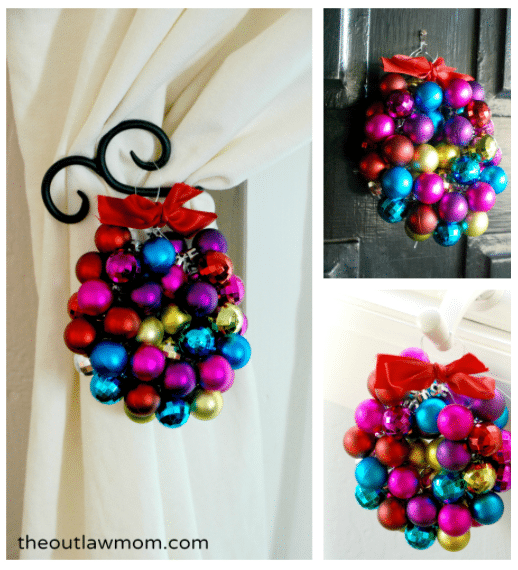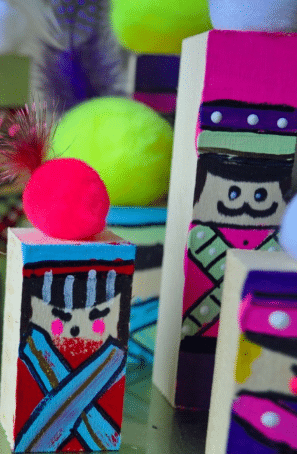 AND FINALLY, some family Christmas tips from experienced parents*:
Take a long family walk on Christmas Eve afternoon (to wear out the kids and help them get to sleep quickly, despite the excitement)
Use lots of Sellotape and multiple layers of wrapping paper on the stocking presents (especially good for older children – toddlers might get rather frustrated!) – this will give you valuable extra minutes in bed on Christmas morning…
Make the Christmas Eve bedtime routine extra special (so that the little ones look forward to it rather than wanting to stay up).  Suggestions range from a special bath bomb or bathroom lit with fairy lights, to The Night Before Christmas bedtime story.
What are your special family Christmas traditions?
Have you been inspired to start any new ones this year..?
*SOURCES: Our childminder (wonder woman and mum of 5!), Mumsnet (combined parenting wisdom), Granny Podge (my mum, the original Christmas fairy)