10 more simple craft ideas for a DIY wedding
10 more fabulous, simple craft ideas for a DIY wedding that are so easy, the kids can help you make them. Glitter champagne, garlands, gifts & more! (SEE 10 MORE HERE)
My 10 gorgeous, simple craft ideas for a DIY wedding have been very popular (people are always getting married right?), so I've rounded up 10 more lovely, yet simple craft ideas for a DIY wedding right here!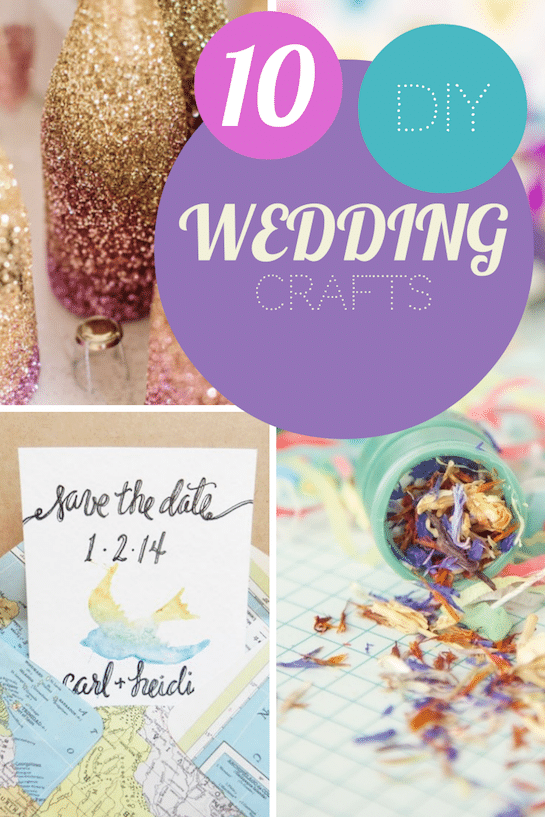 *this post contains affiliate links*
When you purchase something after clicking on an affiliate link, the price you pay will not be affected, but I will receive a small commission from the seller.  Thank you for supporting Hodge Podge Craft in this way.
10 more simple craft ideas for a DIY wedding:
1. Ombre glitter champagne bottles
I adore these sparkly champagne bottles (tutorial from Camp Makery) and what a fabulous way of disguising cheap good value sparkling wine!  Fine glitter/glitter dust works well for this.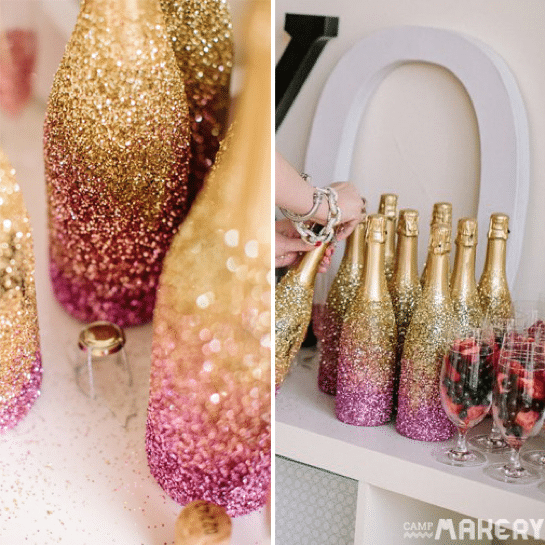 2. Coffee filter garlands
Who on earth would have guessed that coffee filter papers could make such pretty garlands? This simple tutorial from 31 bits will keep kids busy and once you've strung them all together, they would work brilliantly as a photo backdrop or dance-floor decorations.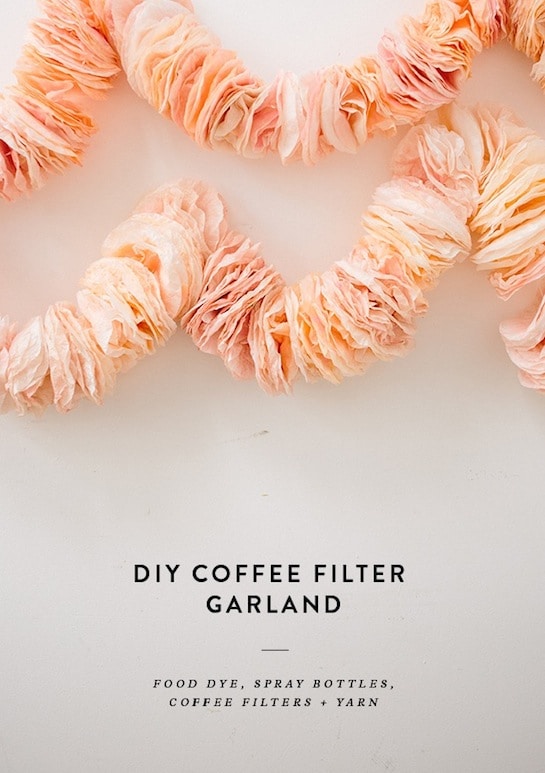 3. Ice bottle cooler
This super clever tutorial from Oh! Weddings shows how you can make ice bottle coolers for next-to-nothing using an empty large fizzy drink bottle and some fruit.  Perfect for hot Summer outdoor weddings (and would double as a centre piece)!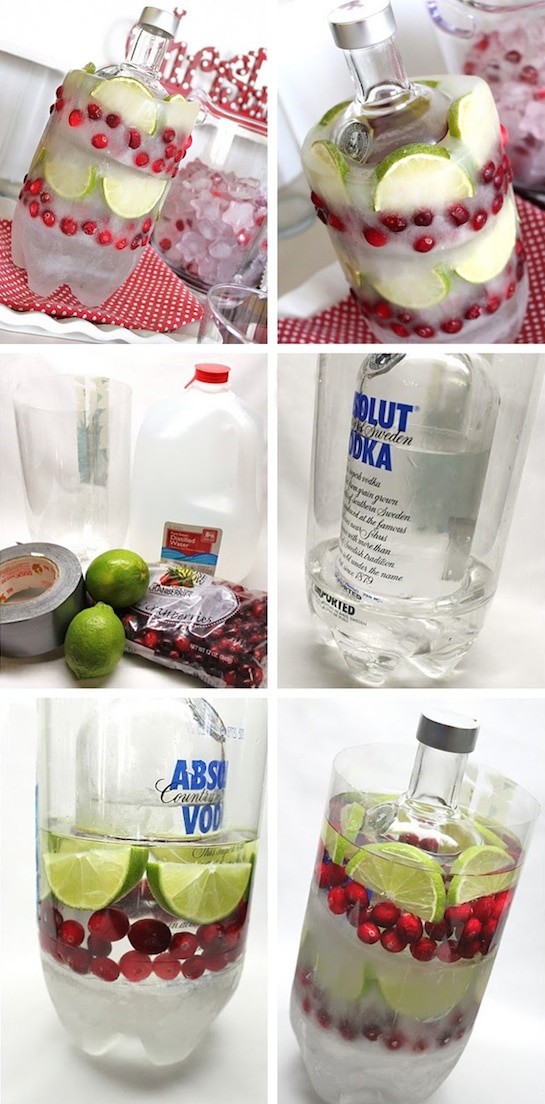 4. Colour dipped cork place card holder
Of all the simple craft ideas for a DIY wedding, this tutorial from The Vault Files is one of the easiest and most effective.  You can choose any colours to fit with your scheme and as long as you use plenty of masking tape, even very young kids can help with the painting.  Use your leftover wine corks (I don't judge!), or buy corks in bulk.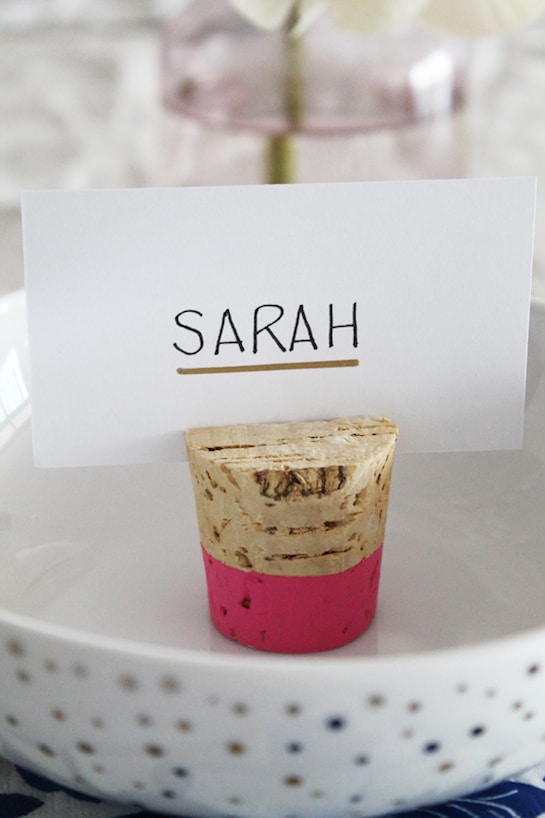 5. Recycled seed tags (or confetti)
These utterly gorgeous wild flower seed-tags from Happy Hour Projects are made with upcyled junk mail (genius, huh?).  Use a cookie cutter to make heart-shaped wedding favours or use a shaped paper punch (flowers, stars or butterflies would be perfect) to make biodegradable confetti.  Surely no wedding venue could object to a few extra flowers in their grounds, right?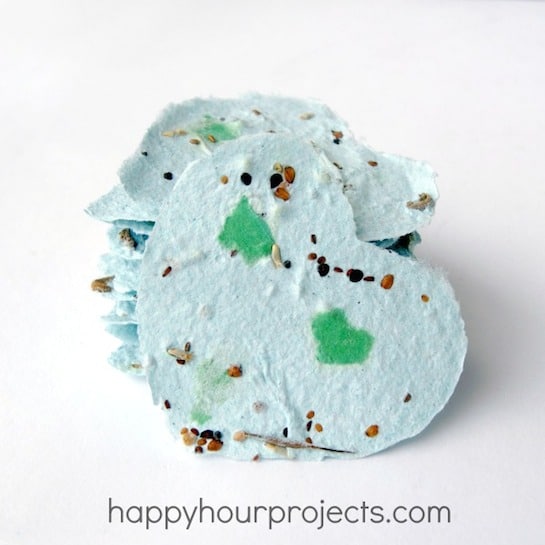 6. Tin can rope vase table centres
This simple, but elegant tutorial by Bayside Bride upcycles old tin coffee cans into rope vases that would work perfectly with a seaside wedding!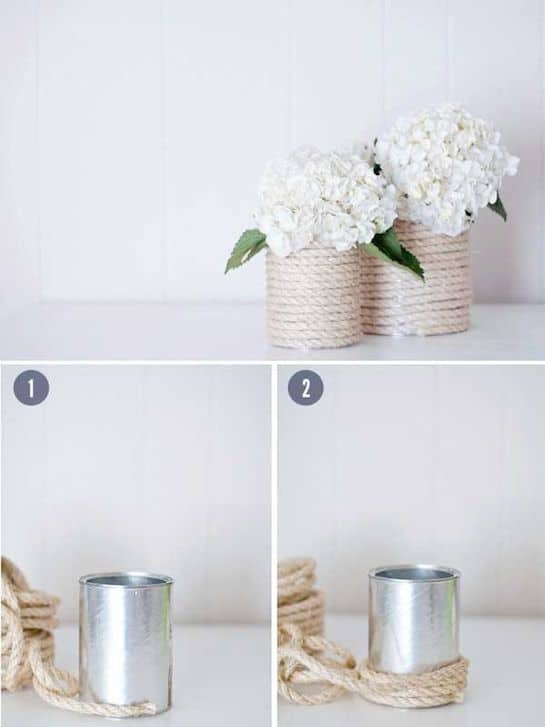 7. Up-cycled map envelopes
This fantastic DIY paper map envelope tutorial from TPK (the postman's knock) has a free downloadable template to follow.  They have used it for Save The Date cards, but I think they would make a great gift (make one using a map of the couple's honeymoon location and fill it with the local currency)!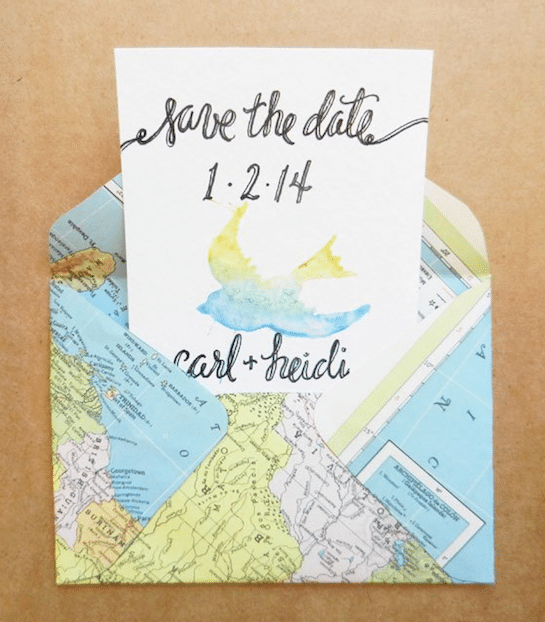 8. Real petal confetti party poppers
I love this completely original idea from Capture by Lucy – replacing the stringy paper with dried flower petals.  Of course you couldn't let children make this one (as the crafting is done with the 'bang' still in place!), but you could enlist responsible older teenagers to help – providing they were VERY careful and kept the poppers pointing AWAY from any faces.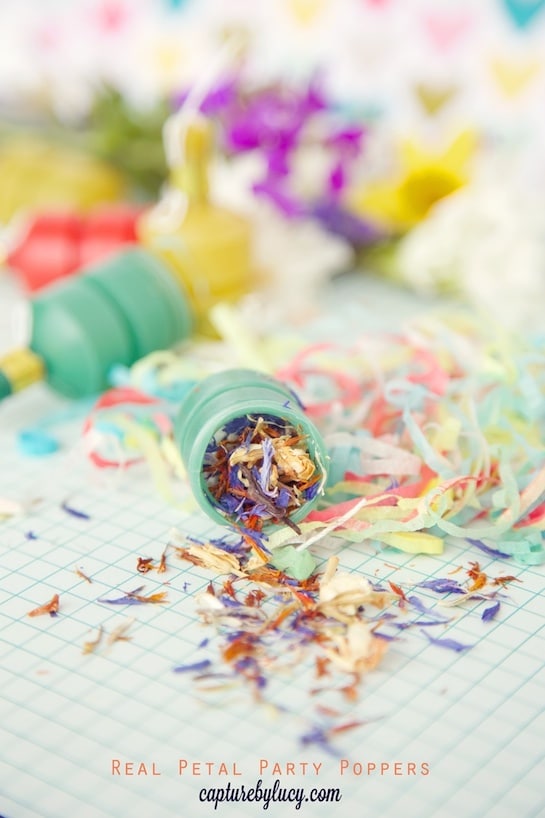 9. Paper doily & twine wrapped cutlery
Sometimes (often) the simplest ideas are the best.  I love this inexpensive table-setting from Count it *all* joy!!! using just paper doilies and twine.
Rustic chic, non?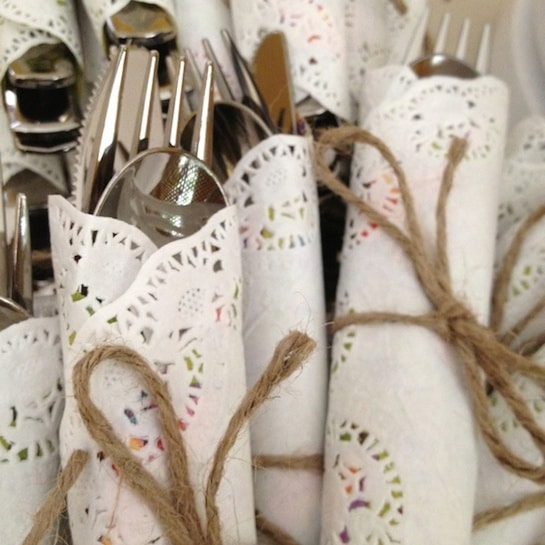 10. Mini pom pom confetti
How cute is this idea from Style Me Pretty?  So much easier to clean up pom poms indoors than paper confetti!  This is definitely one that kids can help make (find an easy video tutorial – using a fork – here).  Find the cute paper bags here.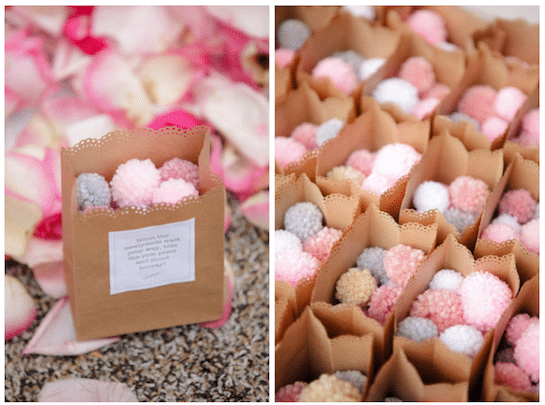 Are you getting married this Summer?  If so, congratulations!
I hope you've found these simple craft ideas for a DIY wedding useful (and that you can rope in some kids to help you make them)!
You can find 10 more gorgeous DIY wedding crafts here: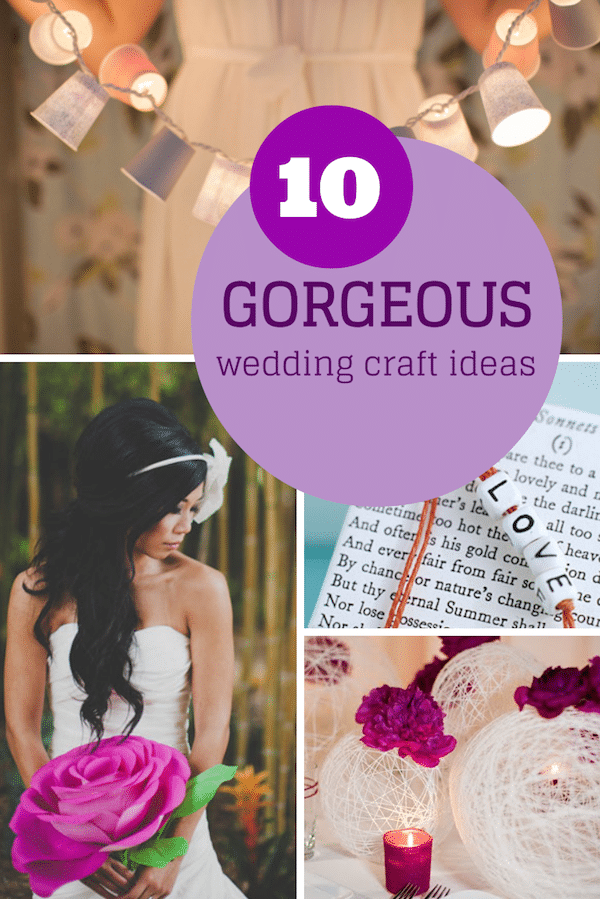 And for even more simple craft ideas for a DIY wedding, just follow my Pinterest board:
Take a look at romantic cards at The Paperdashery, including wedding cards…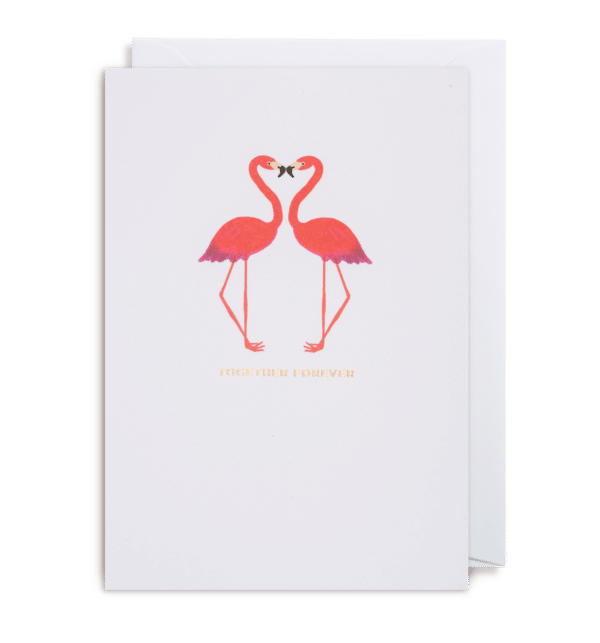 Save