Painted pasta necklace Autumn craft
The weather has turned chilly & damp here in Kent and we are enjoying more cozy crafting activities like this easy Autumn craft: painted pasta necklaces.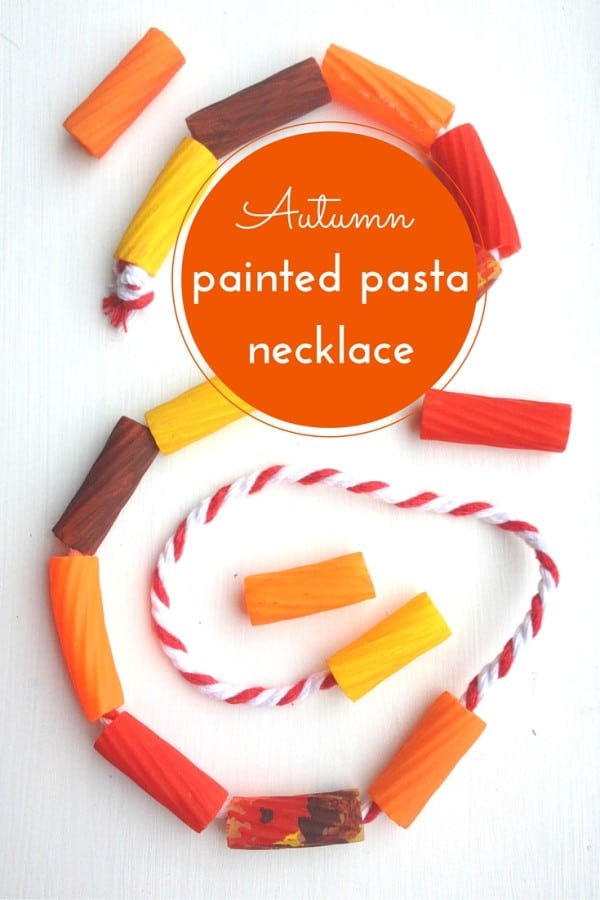 What you need to make this Autumn craft:
pasta tubes (we used elicoidali – a bit like rigatoni, a giant form of macaroni with ridges – perfect for little hands and less frustrating than traditional macaroni)
poster or acrylic paints in Autumn colours (we used yellow, red, orange and brown)
paint brushes
newspaper (for protecting your table and drying the pasta on)
string or twine for threading
a tiny bit of tape to stop your string from fraying at the end (optional)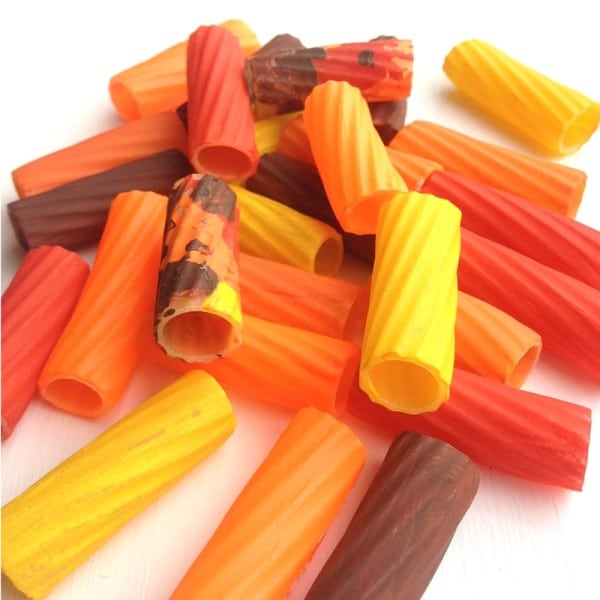 How to make a painted pasta necklace
Lay out your newspaper, put on your old clothes and get painting!
Of course you can choose to paint your pasta in any colours you like.  For this Autumn craft, we chose red, yellow, orange and brown and we talked about how the leaves change colour at this time of year.  We painted most of the pasta shapes in a single colour, then we decided to paint some in two or three different colours.  You could also paint spots, stripes or any kind of pattern on your pasta. Or you could just use the primary colours of yellow and red, then mix them to make your orange.
Paint 75% of each pasta shape and leave them to dry with the remaining 25% resting on the newspaper.  After half an hour, turn them over and painted the underside.
Wait about another hour for the paint to dry completely (you may have to wait a little longer if you use a lot of paint, but some of the moisture will be absorbed by the pasta, so it will dry faster than paper).
Optional: use a little tape to stiffen one end of your twine and stop it from fraying.
Tie a large knot in the other end of your string or twine and thread your pasta pieces on (if your pasta slips off the end of the string, you could try tying the end around a chunky bead, or around a short stick instead).
Once you've finished threading, you can tie the ends together and wear your Autumnal necklace.
Or you could take all the pasta off and make another in a new design!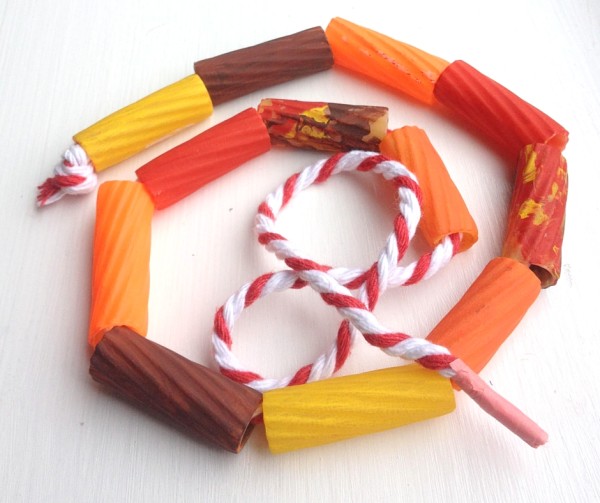 P.S. if you like this, you might also like these ideas:
Hodge Podge Craft:
Crafts on Sea:
The Madhouse: