30 fun advent calendar activities
Fun, festive advent calendar activities from baking and crafting to carol singing and gift giving.
I like to include advent calendar activities in our DIY Christmas advent calendar for the boys.  I do change them around each year and switch some out for others, but I like to do a lot of the same things, as I think they become Christmas family traditions that way.
By the way, aren't these Christmas images gorgeous?  You can download them for free at The Graphics Fairy, who also shares her tutorial for a very vintage advent calendar.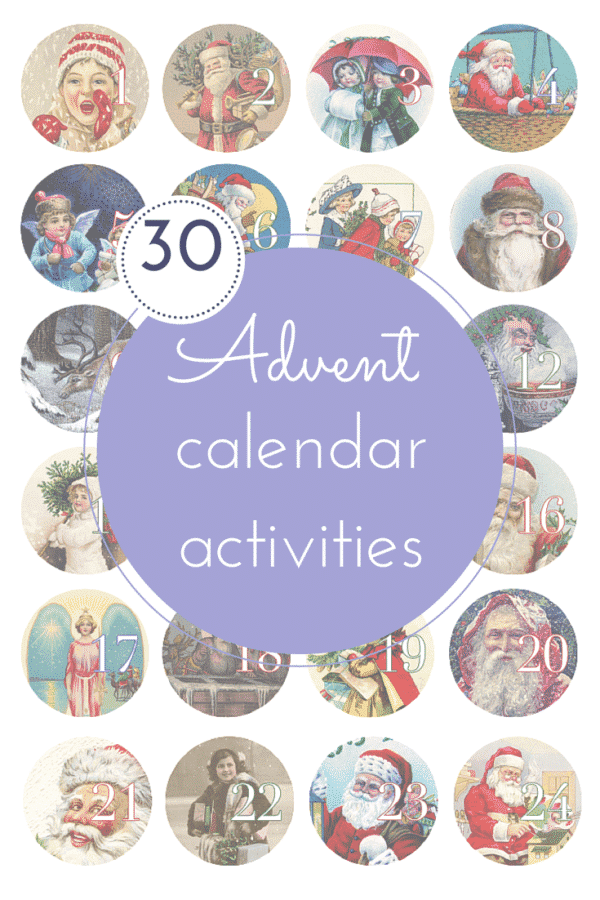 *this post contains affiliate links*
When you purchase something after clicking on an affiliate link, the price you pay will not be affected, but I will receive a small commission from the seller.  Thank you for supporting Hodge Podge Craft in this way.
Here are the advent calendar activities that we included last year.
24 fun advent calendar activities:
Help Mummy & Daddy choose a Christmas tree
Write a letter to Santa (with help!)
Listen to Christmas songs on YouTube
Eat pannatone (Italian Christmas cake bread) for breakfast
Read How The Grinch Stole Christmas with Daddy
After bathtime, take a family drive to see the local Christmas lights
Make Christmas crafts for kids in the local village hall
Watch The Grinch (or any other Christmas film: Elf, Mickey's Once Upon a Christmas etc. – I've chosen The Grinch again, as my boys are into Dr Seuss at the moment and love repetition!)
Make mince pies
Go to the panto (ours is Aladdin)
Watch The Polar Express
Hang your new ornaments on the tree (I've included a couple of nutcracker ornaments for them here)
Read a Christmas story book (we have lots, so there's plenty of choice, but this pop up Santa book is our FAVOURITE!)
Take a train ride on the Santa Special (a treat with Granny & Grandad Podge)
Make hot chocolate with mini snowballs (hot choc sachets and mini marshmallows included)
Make reindeer food (recipe included: 1/2 cup of rolled oats, 1/2 cup of sugar, 1 teaspoon of edible glitter) – don't forget to leave this out for Rudolph on Christmas Eve!
Watch a Muppet Christmas Carol (Mummy's favourite) with popcorn (popcorn microwave sachet included)
Watch a special video from Santa (here's the link – it's free!)
Make decorations out of air dry clay for gifts
Make a Christmas card for Great Granny and visit Santa's grotto
Bake cookies (and eat a few)
Take cookies to your neighbours and wish them a happy Christmas!
Look at photos from last Christmas
Read 'Twas the Night Before Christmas for your bedtime story
6 more advent calendar activities:
Make a snowglobe (Whipperberry has a great tutorial)
Go to a local carol service and sing your heart out!
Make giant paper snowflakes (visit Pattie's Classroom for the step-by-step tutorial)
Wrap up warm and go outside to look at the stars (see if you can spot any constellations that look like Santa, Rudolph or holly)
Make a wreath (find 10+ ideas at the Classroom Creative)
Buy something from the pound shop/dollar store for your sibling(s) (or pack a shoebox for Operation Christmas Child)
Do you have more ideas?  Please post/link/comment below – I am always looking for more!
Save
Save
(Visited 7,027 times, 83 visits today)