How to make the cutest DIY Minion costume
Full tutorial for a DIY Minion costume (complete with hard hats, Gru logo, goggles and crazy hair) – great for a fancy dress party or Halloween outfit.
Here is my easy DIY Minion costume tutorial.  We were invited to a fancy dress party a couple of weeks ago and the boys knew they wanted to dress up as Minions (they are BIG fans of Despicable Me)!
I love these goggles from Playing with Scissors (found on Pinterest), but I wanted to use hard hats, rather than a beanie (because it's Summer here and a beanie might be too hot).  I also wanted the goggles to be on the hat, not on their faces, as I thought that might irritate them.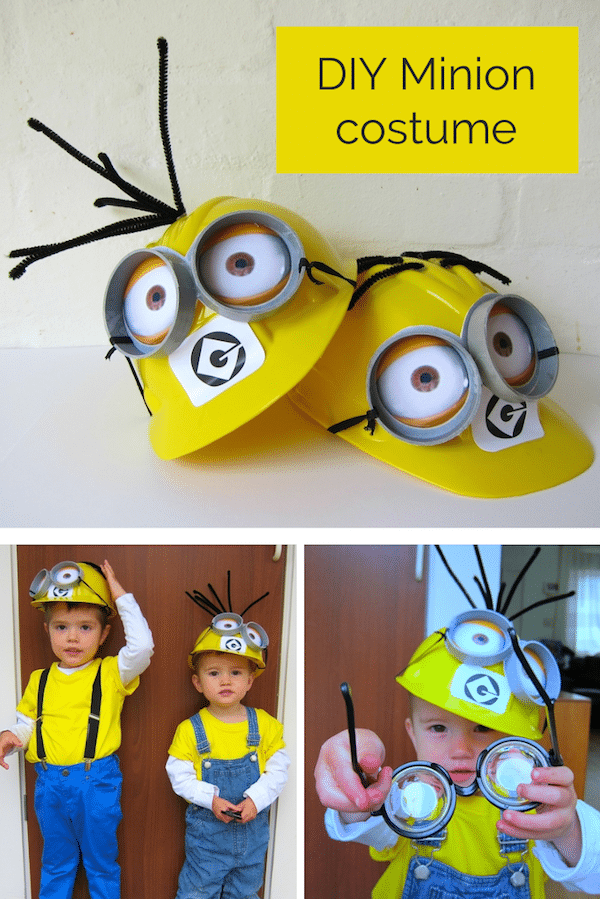 *this post contains affiliate links*
When you purchase something after clicking on an affiliate link, the price you pay will not be affected, but I will receive a small commission from the seller.  Thank you for supporting Hodge Podge Craft in this way.
To make a DIY Minion costume, you will need:
COST: a few quid
AGE: toddlers and young kids
TIME: 20-30 minutes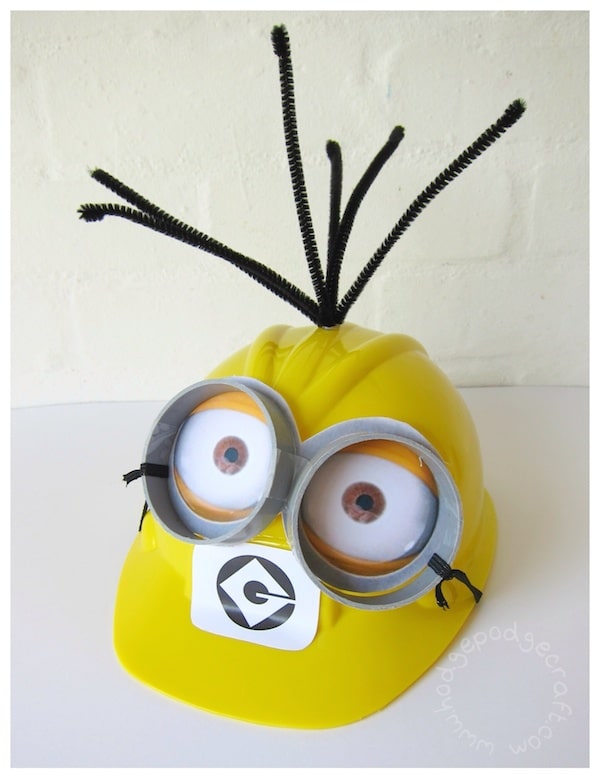 How to make a DIY Minion costume:
Download the Gru logo and print it out onto your stickers (or onto paper, then use double-sided tape).  Stick this onto the front of your hard hat
Choose which hairstyle your Minion will have (there are 3 to choose from) and glue pipe-cleaners onto the hard hat in the style of your choice
Print some goggle eyes out onto card and cut them out, keeping them attached in the middle
Remove the inserts and tape your Mason jar lids together.  Tape these to the printed google eyes
Tie some elastic to one side of your goggles (making a small hole in the card if needed)
Pass the elastic around the hat and wind it through the plastic support inside, back around to the front and secure to the other side of your goggles
Position the goggles at a jaunty angle (the Minions are a bit slap-dash after all!) and secure with some double-sided tape or glue
Dress your kid up in a yellow Tshirt and blue dungarees (or in Pickle's case, blue trousers and braces, as his dungarees are too small now)
Add the hard hat
Now you have the cutest DIY Minion ever – ready to party!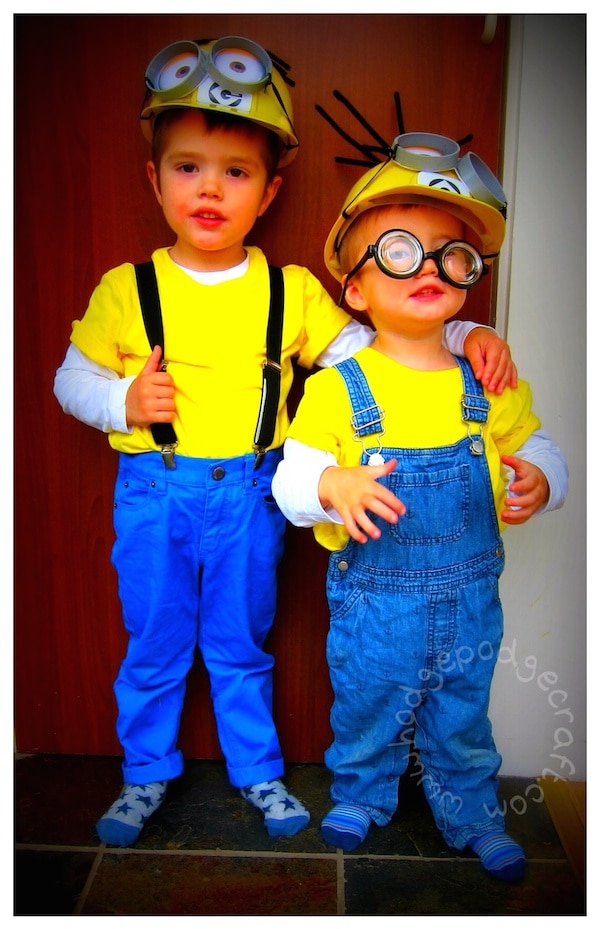 P.S. Chops has my geek glasses here (I went as a Minion too!) – he doesn't need them, but they were so huge on his little face, I wanted to include the photo as it makes me grin every time I look at it!
I would love it if you would Pin this post if you have found it useful (why not follow me on Facebook for more easy craft ideas for kids too?)
Thanks for stopping by!
Save
Save
(Visited 14,468 times, 3 visits today)