How to make scented candles in a teacup: a step-by-step tutorial
These easy scented candles in a teacup make great gifts (especially vintage ones from the thrift store)!
Here's a full step-by-step tutorial.
I wanted to learn how to make scented candles in a teacup to give as Christmas gifts.  I thought the process would be quite complicated, but it turned out to be very simple (honestly, even young children could help with sticking the wicks, stirring and even pouring the wax as long as they are closely supervised) and I do think this 'recipe' is very forgiving!  I will definitely be making them again and tailoring the scents to my friends and family.  I think they make a lovely gift, especially when you consider that a good quality natural scented candle can cost £20-£30 each!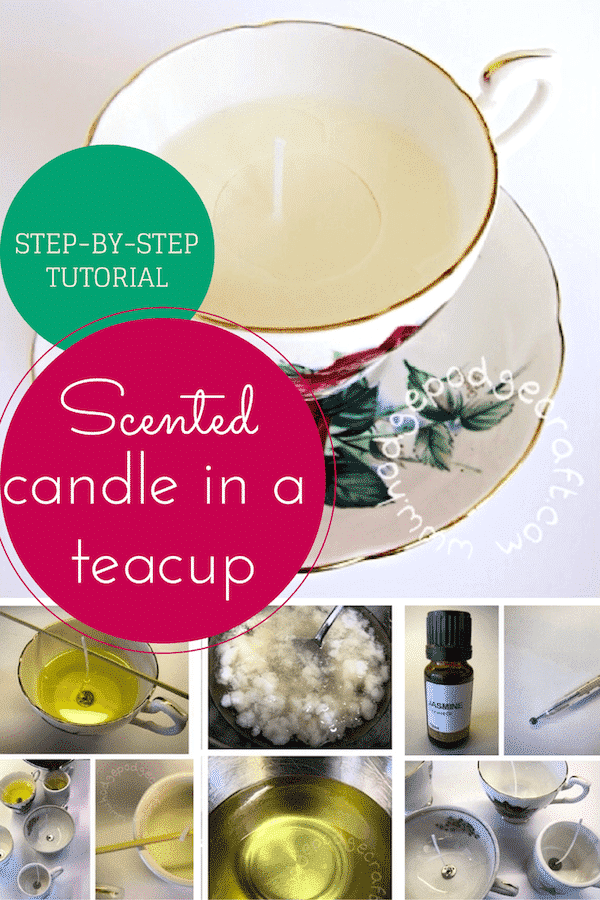 *this post contains affiliate links*
When you purchase something after clicking on an affiliate link, the price you pay will not be affected, but I will receive a small commission from the seller.  Thank you for supporting Hodge Podge Craft in this way.
You will need the following to make scented candles in a teacup:
COST: under £15
AGE: 3+ (with help)
TIME: about an hour to make, then overnight to allow them to set properly

How to make scented candles in a teacup:
Check how much soy wax you need to melt (the easiest way to do this is to measure it out using the tea cups that you will be using as moulds: 2x teacups full of wax flakes = 1 finished teacup candle).  I found that 500g wax flakes, once melted, filled 4x standard size teacups.
Spread out some newspaper on your work surface and put your empty teacups on top.  Stick the wicks to the bottom of the teacups using the blue tac or glue dots and use a pencil/skewer or two to hold the wicks upright.
https://www.instagram.com/p/bpEEMZGejS/
Place your wax in your double-boiler (or makeshift double-boiler – see above!) and let it melt.  Never leave the melting wax unattended.  Once the melted wax reaches 175F (80C), you can add your fragrance.  Take it off the heat and stir gently for a few minutes to make sure the scent is mixed in evenly.
https://www.instagram.com/p/bpEln-mekS/
Once the wax has cooled to 135F (57C), carefully pour the wax into your teacups and re-centre the wicks if necessary (I am cack-handed and managed to knock them all on the wonk during the pouring!)
https://www.instagram.com/p/bpEslFmekc/
Leave to set overnight, then either light and enjoy them yourself, or wrap them up to give to your lucky friends!
PRO-TIP: Apparently if you add a final layer of melted wax to the surface of the set candle, it will give you a smooth, crack-free finish.
So now you know how to make scented candles in a teacup.  Will you have a try and let me know how you get on?
By the way, if you fancy trying something different, why not have a go at Crafts on Sea's beeswax teacup candles?
Pssst…  Making this for a new mum?  Why not make this gorgeous new baby footprint card too?
Save
(Visited 4,604 times, 11 visits today)