Avast ye crafty land-lubbers! Learn how to make mini treasure chest box favours for a pirate party…
Aren't these mini treasure chest boxes cute?  Perfect for pirate or mermaid swimming party favours!
It's Pickle's 3rd birthday next week and (as you already know from our aged invitations) we're having a pirate party!  I thought it would be a nice idea to make mini treasure box party favours (filled with chocolate coins of course) for the children to take home.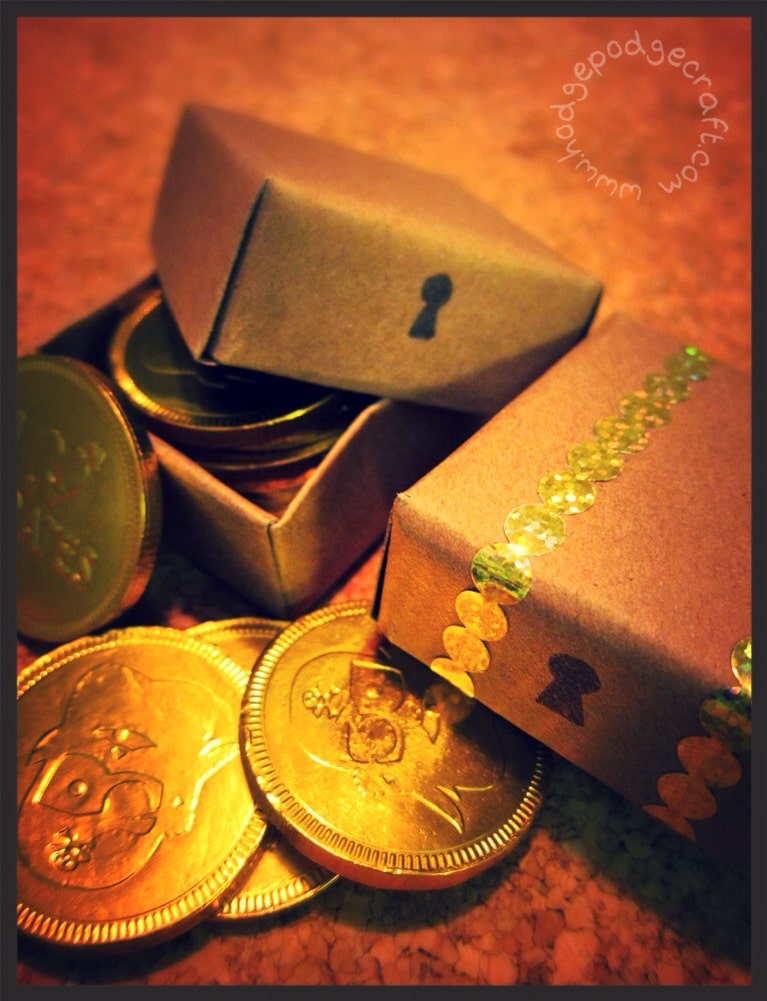 To make mini treasure chest party favour boxes, you will need:
– thin brown cardboard/cardstock squares (approx 15x15cm)
– scissors
– a black felt tip pen
– thin gold washi tape, a gold pen or gold stickers on a roll
– a ruler
COST: a few quid (including the chocolate coins)
AGE: toddlers and young kids
TIME: 5 minutes per box (you will get faster each time!)
https://www.instagram.com/p/gjK2nDGenD/
How-to make mini treasure chest party favour boxes:
Pre-cut your cardboard squares to the same size (you will need 2x squares per box).  I cheated and bought square card blanks, then cut them in half, saving me a LOT of measuring and cutting time!
Follow these easy, step-by-step instructions for how to make lidded favour boxes.
Draw a keyhole on one side of each box lid.
Fill your boxes with chocolate coins.
Add your gold 'binding' to each side of the keyhole, all the way around the box, with either gold pen, stickers or tape.  The advantage with stickers or tape is that it will keep your box shut (and the chocolate coins inside)!
If you're feeling super-crafty, you could also make a giant treasure chest from cardboard (tutorial by Fold Out Fun).  My amazing parents did this (there must be a 'crafting gene' surely?) and here it is  – perfect for storing all your pirate presents (booty)!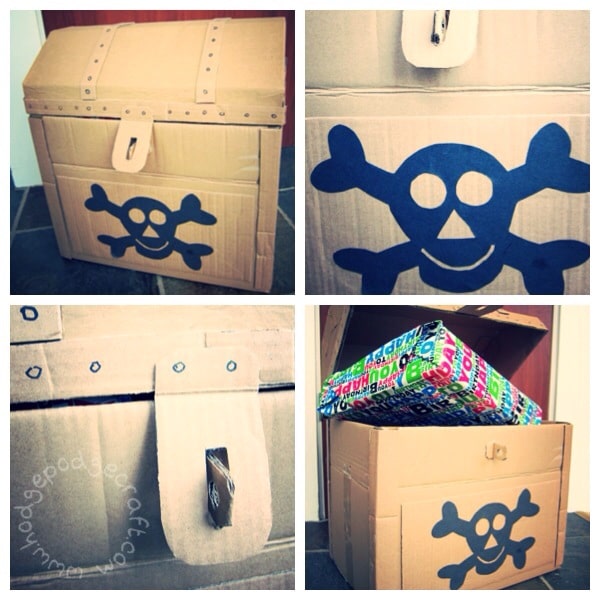 The plan is to fill the big treasure chest with shredded paper and hide the mini treasure chests (along with some loose gold coins) inside.  Then the little pirates can go 'digging' for buried treasure to add to their goody bags!
(Visited 876 times, 1 visits today)