The Cardboard Castle (a recycled photo story)
A cardboard castle can inspire fun creative role-play and story-telling – take a look!
Last week my parents made the boys this fantastic cardboard castle (complete with crenellations and working draw-bridge)!  Pickle and Chops decorated their own flags and then had a great time playing with it.
The Cardboard Castle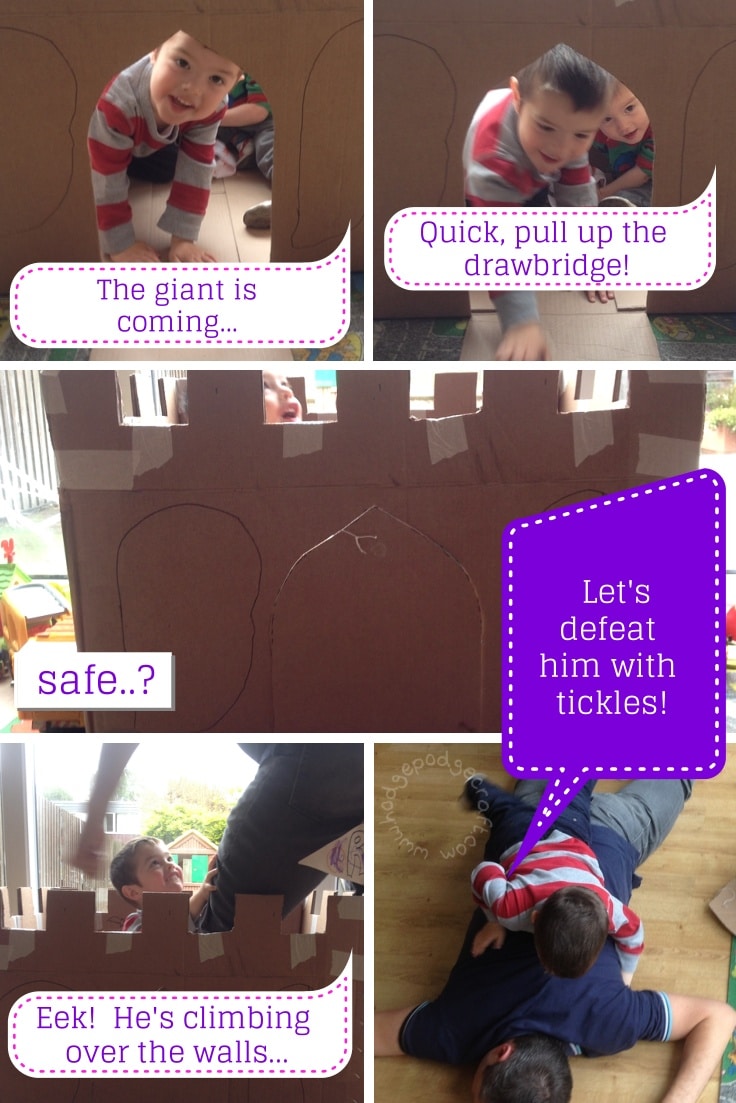 What you need to make a cardboard castle:
a HUGE cardboard box
masking or parcel tape
a craft knife or scalpel
some string/ribbon
pens/paint to decorate
straws
cardboard scraps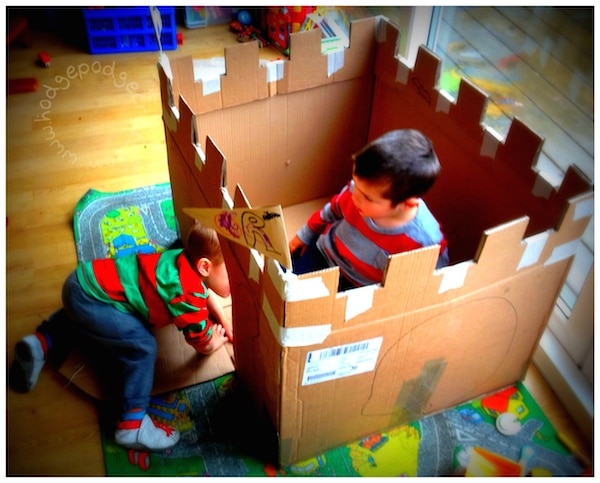 How to make a cardboard castle:
Lift all the flaps of your cardboard box up and fold them in half (down, inside the box)
Tape the corners together to strengthen
Use a scalpel (or sharp craft knife) to cut your crenellations along the top, then tape to reinforce
Cut a drawbridge shape in the front of the box, leaving the base attached
Make a small hole in the top of the drawbridge.  Thread some string/ribbon through and tie into a loop which you can use to close your drawbridge from the inside
Cut some flags from cardboard scraps.  Decorate and stick these to straw 'flagpoles'.  Tape the flags to the corners of your cardboard castle.
Add details and decorate your cardboard castle with pens/paint
I loved the little details that the boys included (they drew ghosts and bats inside and windows outside the box).  Best of all, this cardboard castle cost almost nothing and provided hours of entertainment!
Have you made anything cool out of a cardboard box?
Here are 10 more cool cardboard box crafts from Mommyish if you've caught the bug!
And if you're into recycling through crafting, take a look at In The Playroom's junk modelling ideas and get inspired!
(Visited 916 times, 1 visits today)