How to make giant salt dough doubloons
These salt dough doubloons are quick, easy and thrifty for a pirate party.  Kids can collect them and exchange for goodie bags!
Pickle's pirate party was at a local soft play cafe, but I wanted the kids to have a craft activity and treasure hunt option too.  My mum found a jolly roger cookie cutter which inspired these salt dough doubloons (we made one each for the guests to find in and around the soft play area) and here's the tutorial…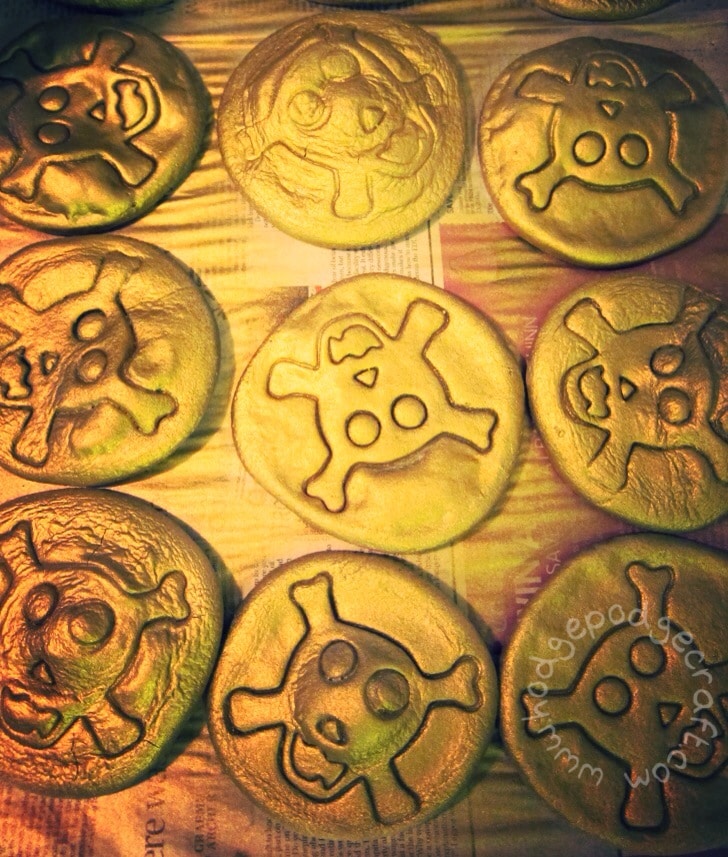 To make giant salt dough doubloons, you will need:
(makes approx 6 giant doubloons)

– 2 cups of flour
– 1 cup of salt
– 1 cup of water
– a jolly roger cookie cutter/stamp (or you could whittle a custom stamp from a large eraser by following Gathering Beauty's tutorial)
– greaseproof paper
– an oven or microwave
– newspaper
– gold spray paint
COST: a few quid
AGE: toddlers and up (for the making & adults for the baking/spray painting)
TIME: 1 hour or more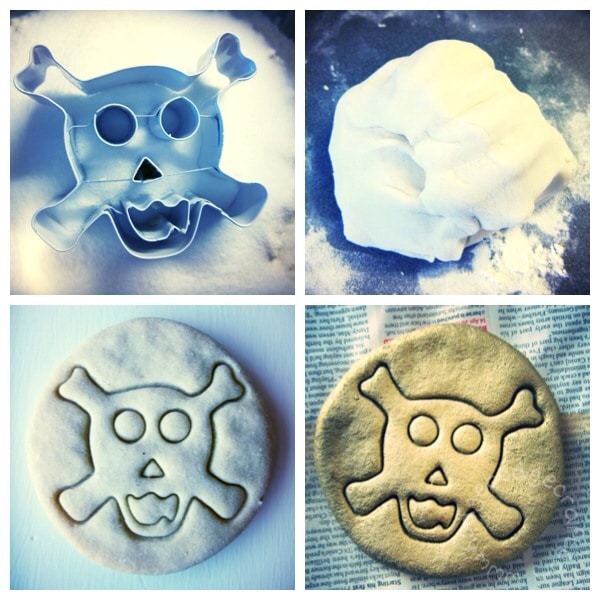 How to make giant salt dough doubloons:
Mix the flour and salt together in a large bowl.
Add the water and stir until it starts to combine, then squidge and knead for about 10 minutes until you have a good springy dough consistency.
Pinch your ball of dough into 6 roughly equal sized pieces.
Roll each of these into a ball and squash them into large flat disks.
Use your cookie cutter or stamp to mark each disk with a jolly roger.  If you're using a cookie cutter, don't press too hard – you want the shape to be imprinted, rather than cut through the disk.
Traditionally salt dough is hardened in a low oven, but I found that mine dried much faster and more evenly in the microwave (thank you Kirstie Allsopp!) – place each disc on a plate covered with greaseproof paper and put it in the microwave for 2-3 minutes. They will be hot when they come out, so be careful!
Leave the discs to cool completely on a rack.
Put down lots of newspaper (outside if possible, otherwise in a very well ventilated area) and spray paint the discs on both sides so that they are transformed into gold doubloons!
Once fully dry, hide them around your party area for guests to find (we did this just for fun, but you could have a prize for whoever can find the most).
If your kids are into pirate crafts, why not try making these aged treasure maps and mini treasure chests too?
(Visited 4,174 times, 1 visits today)