Rock painting: Day of the Dead skulls
A super-easy craft for Halloween or Day of the Dead: painted stone skulls!
Day of the Dead skulls are a popular symbol for Día de Muertos (a Mexican holiday where people gather to remember friends and family who have passed away).  The  decorative skull symbol (often made of sugar), along with marigolds are used to honour the dead.
Inspired by Red Ted Arts' (Sharpie) stone skulls, I decided to paint some for the boys.  And add some sparkle (of course)!

To make painted rock Day of the Dead skulls, you will need:
rocks in the (general) shape of skulls
acrylic paint
brushes
old newspaper and overalls (acrylic paint can stain)
OPTIONAL: glitter, sequins and ModPodge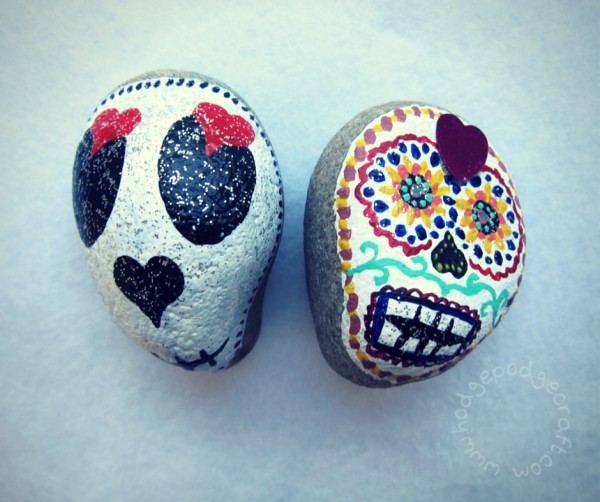 How to make painted rock Day of the Dead skulls:
Make sure you have anything precious (table, caarpet, kids) well covered before starting
Paint a white skull shape on your stone and leave to dry
Add your skull's features (traditionally an upside down heart for a nose and lots of marigolds, plus spider webs), but you can choose to make them as pretty (or scary!) as you like.
OPTIONAL: add a layer of Mod Podge and add glitter and/or sequins for added sparkle!
If you enjoyed this painted rock Day of the Dead skulls craft, you might want to follow my Day of the Dead board on Pinterest for more fun ideas!
(Visited 3,934 times, 1 visits today)