Duck Tape Brazilian Samba Dancer Craft
This easy Samba dancer craft was inspired by the World Cup.  Download the free printables and have a go yourself!
We made these Brazilian Samba dancers for the World Cup using Duck Tape leftover from our paper chain football supporters craft, but you could just as easily use washi tape if you have it.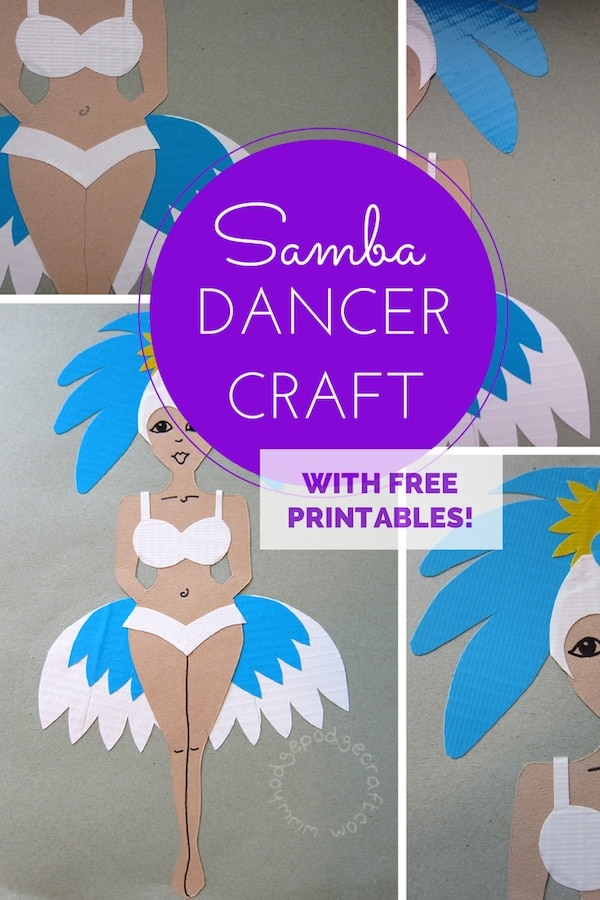 To make this Brazilian samba dancer craft, you will need:
A large (A3 is ideal) piece of sugar or craft paper
An A4 piece of paper in whatever flesh tone you decide to make your Samba dancer
A printer
These free printables: dress up kit, body outline & placement guide (which can also be used as a colouring sheet for younger children)
Duck or washi tape in your chosen colours (we used the flag colours for England, Uruguay, Italy & Costa Rica)
Waxed paper (to make stickers from your tape)
Tracing paper (optional, but makes things easier!)
A black pen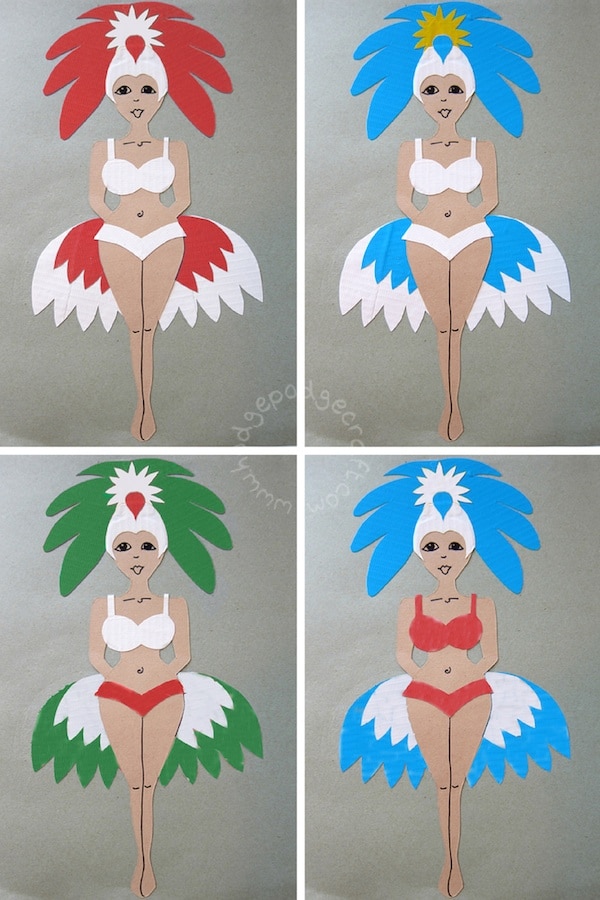 How to make this Brazilian samba dancer craft:
Download & print the 3 free printables Printable 1 Printable 2 Printable 3
Take your large background piece of paper, position and trace the placement guide (Printable 3) onto it (or cut out the placement guide figure and glue it in the centre of the background paper)
Use the dress up kit template (Printable 1) to make Duck Tape / washi stickers in the shapes of the samba dancer's bikini, headdress and tail feathers.  We used little lovelies' brilliant tutorial for washi stickers (using a waxed paper backing makes it easy to cut out a template neatly).  You can use whatever colours you choose here.  If you want to make your Samba dancer representative of a particular country, why not look at their flag and use that as your guide?
Stick your largest headdress piece (1) to the background paper, using the pre-traced positioning template as your guide
Stick the smaller headdress piece (2) on top of the larger one
Trace your samba dancer body outline onto the flesh-tone paper that you have chosen, cut it out and stick the HEAD ONLY (3) on top of the headdress (using the placement guide)
Stick pieces 4-9 (in order!) to the background paper, using the placement guide
Then stick the rest of the samba dancer's body (10 & 11) down
Finally, stick on her bikini and use your black pen to draw on her face and other details
If you have younger kids, just print out the placement template (Printable 3) and let them colour it in!
Like this?  Please Pin it (share button below) – thanks so much!